Story by C Jackson Cowart
Photos by Gabi Palacio (Additional photos here)
SAN ANTONIO — Danny Green was on his way to the Convention Center, one day before the 2018 Final Four, when he spotted a familiar face.
It was Roy Williams, donning a full suit in the San Antonio heat, dragging two travel bags behind him. It'd been nearly a decade since North Carolina's head basketball coach shared the sidelines with Green, the beloved former Tar Heel and current San Antonio Spur. But even all these years later, Green still owes his old coach a favor or two.
"Hey Coach," he yells out. "Let me grab your bags."
It was almost exactly 10 years earlier when Green helped lead UNC to the 2008 Final Four, the last time this event was in this city. It was Green's breakout season as a Tar Heel, his introduction to the stage he'd spent hours in his backyard training for. North Carolina lost in that year's national semifinal to Kansas, but it marked Green's arrival on the court.
"You carried me for four years," Williams says. "You don't need to carry my luggage."
Green was a prolific sixth man in 2008 and a starter in 2009, the heart and soul of arguably the most prolific championship squad in UNC's history. He's been the most successful NBA player of the bunch, with nine seasons and a championship ring to his name. Only two other Tar Heels have ever won an NCAA and NBA title: Michael Jordan and James Worthy.
Green's ascension was as taxing as it was surprising, even if his demeanor belies his true emotion. And as the 6-foot-6 shooting guard walked side by side with Williams, the 67-year-old coach dragging a rolling bag with another on top, the irony coaxed a smile from Green.
"This doesn't look good, Coach," he says, laughing.
He'd carried his own baggage throughout his life and career — from North Babylon, N.Y., to Chapel Hill, N.C., and eventually to San Antonio, his adopted NBA home. He wasn't sure he'd ever make it at UNC, a near-transfer victim when his home life was torn apart, and he certainly didn't feel welcome here, in the city that twice rejected him before embracing him as one of its own.
But you wouldn't know any of that, save for the countless redemption stories written about one of the most inspiring and least self-promotional players in all of basketball. Beyond his quick wit, untroubled attitude and seemingly unquestioned work ethic, you can't see the pain of a confused kid or the self-doubt of a journeyman at first glance.
No, that's hidden beyond years of unrest and uncertainty. It's what drove him, even when it stopped him in his tracks. And it's what keeps that smile on his face.
***
To understand the journey of Danny Green, you have to start with his name.
First, start with the man who built a half-court in the backyard — with a key and a three-point line and a painted rubber blacktop — and added a bench press and free weights beside it, so his sons could train on demand. Start with the one who led two-hour film sessions after games and late-night workouts in the local recreation center, all before working an odd job in the morning.
Start with North Babylon's unofficial neighborhood coach, whose doors were open and lessons were free, even if you didn't ask. Start with Danny Green Sr., and you'll likely find Danny Green Jr. along the way.
"He and his dad were identical," says Darren Duncan, a childhood friend. "They were the same type of guy."
It was always about the challenge for Green, then the oldest of three boys. His father pitted him against competition two years older than he was, and he blocked their shots all the same, relying on impeccable timing when his athleticism couldn't match. When his son was a freshman in high school, Green Sr. brought him into his adult men's league to teach him a new level of physicality. He never complained.
"He did everything you'd ask him to do," Green Sr. said.
He'd match his son against Kevin Spann, a childhood friend and neighbor who moved from Chicago to North Babylon in middle school. Spann was a year older than Green and a step quicker, a natural point guard and eventual college coach. But Green guarded him, anyway, practicing quick dribble moves on offense and attacking the ball on defense.
The two worked with Jerry Powell, a renowned local trainer, for hours in the summertime. They'd battle at rival high schools during the week — Green at St. Mary's, Spann at St. John the Baptist — and play together on the weekends, firing shots on that half-court until 2 a.m.
"We'd just play basketball until our sneakers had holes in them," Spann said.
"Mr. Green," as a coach and a father, was strictly fundamental. He taught his kids how to switch screens, shoot jumpers and shovel the driveway, all in a day's work. He was his son's first coach and his primary support system, even if support meant humbling him in victory. If he had 25 points, he could have had 40. If he saw something he didn't like in his son's game, he'd say so. He coached him until ninth grade, when Green joined coach Gary Charles with the Long Island Panthers, later known as the New York Panthers.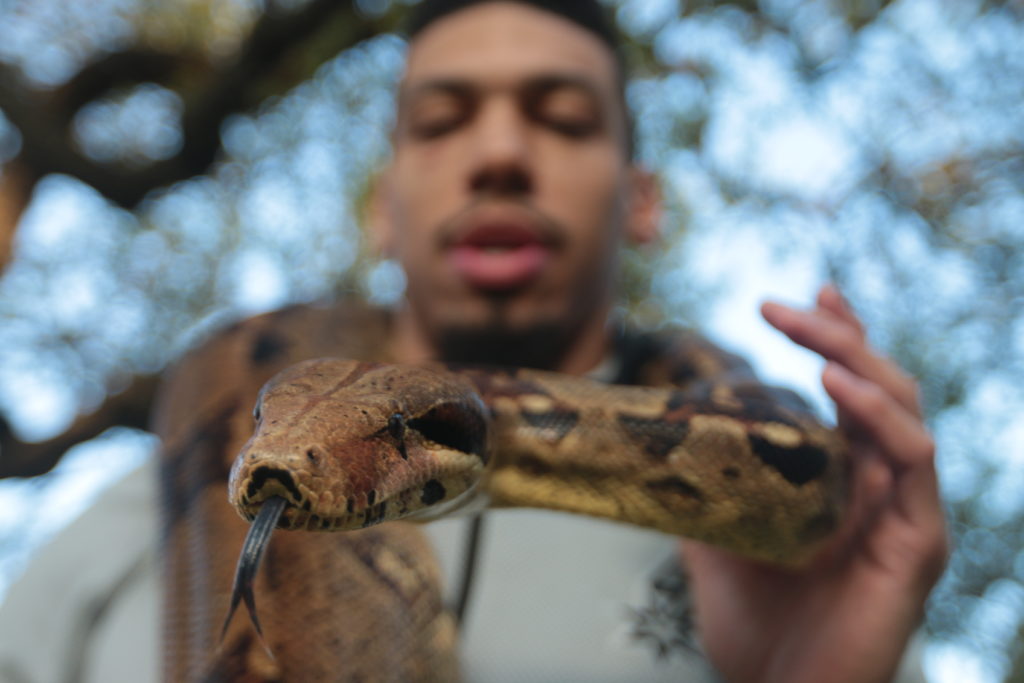 There's a stereotype in New York basketball, drawn from the socioeconomic division of New York City's five boroughs: kids from Long Island, the area's wealthiest region, are soft. They have two parents, green grass in the backyard and a silver spoon in their mouths. But Green wasn't soft, and he wasn't spoon-fed, either. For much of his childhood, he had one parent — his mother left when he was 11, he says — and he tore up his backyard training for the respect of his competition.
He had to earn the respect of his teammates, too, with many of them hailing from outside of Long Island. Charlie Villanueva went to school in Queens; Joakim Noah in Brooklyn. Jason Fraser was from Long Island, but he was three years older and four inches taller than Green. The first two were eventual college stars and NBA contributors; Fraser's path looked the same before injuries.
Green, on the other hand, was merely fighting for a place on the team.
"You couldn't have predicted, at that time, that he was a pro," Charles said.
Before each camp, Charles told his players to focus on their strengths. For Green, it was defense. His long arms and natural instincts left his opponents vulnerable to get swatted. Each year, Green improved the small facets of his game: his release, his footwork, his response to adversity. There was nothing Charles asked of him that he wouldn't do.
As a ninth grader, Green was a reserve when his Panthers took on LeBron James, Sebastian Telfair and the Brooklyn Bridge AAU team in the prestigious iS8 championship in Queens. Just over two years later, in the ABCD Camp All-Star game, Green was senior class co-MVP with Monta Ellis, who went straight from high school to the NBA a year later.
"(Long Islanders) don't get a lot of respect from the city guys," Green said after that game in 2004. "We have to do a lot to get some respect."
He earned it from Roy Williams, who was sitting in the stands in his first full offseason as the Tar Heels' coach. Later that year, he extended an offer to Green, then a senior at St. Mary's. It was an easy decision for Green: his dad idolized Carolina, and so did he. Chapel Hill was the ultimate goal from the beginning, one made clearer when the Tar Heels won a championship later that season.
Green Sr. remembers one of his friends, a former D-1 player at Syracuse, suggesting that Green should go to St. John's. There, he said, he'd be a star. But Green Sr. didn't want his son to be a star. He wanted him to challenge himself against the best, as he always had.
But the Tar Heels courted the best, his friend argued. In Green's class alone, UNC signed fellow McDonald's All-Americans Tyler Hansbrough and Bobby Frasor and versatile guard Marcus Ginyard. What if Green can't find his way onto the court?
"Well then," his dad said, "we'll know how good he really is."
***
Green was tired of sitting on the bench, and he was tired of the phone calls.
With four NBA lottery picks — Marvin Williams, Raymond Felton, Sean May and Rashad McCants — gone from the previous year's title team, the North Babylon star thought he'd have chance to start coming into his freshman year at UNC. Instead, he watched as Hansbrough, Frasor and Ginyard all claimed starting roles to begin the season.
Green led the bench unit that year with 7.5 points per game, and he led the entire team with 32 blocks, an impressive feat for a guard. Yet he didn't earn a single start. Green didn't complain, but his father did, treating his son to a cellular coaching clinic after each game. It wore on him: the sideline view during games and relentless coaching after from his biggest fan and harshest critic. Yes, he embraced the challenge — but couldn't he be a college kid, too?
Eleven days after UNC's season ended, a casualty of George Mason's 2006 Cinderella run, the calls stopped. And Green couldn't afford to be a kid any longer.
It was a multi-million dollar drug bust, one of the biggest in Suffolk County history, that led to the arrest of three Long Island men on March 30, 2006. Danny Green Sr. was one of them. It was plastered on the news, and the other Danny Green knew little more than the headlines he saw on TV. He stayed up all night — waiting for calls, waiting for clarity, waiting for…anything.
"You take for granted the phone calls you get every day," Green said.
Green Sr. pleaded not guilty to charges of drug possession and conspiracy. Eventually, the charges were dropped, but a new felony conspiracy charge took its place. Green Sr. fought that, too. All the while, he sat behind bars, his family crumbling without its backbone.
On the court, Green's minutes dipped in his sophomore season. The Tar Heels welcomed the top recruiting class in the nation in 2006, led by three top-10 recruits — Brandan Wright, Ty Lawson and Wayne Ellington — and three additional four-star commits. Green still led the second unit in scoring, but he was second off the bench behind Ginyard and seventh on the team in minutes. After each game, the media drowned him with questions he couldn't answer about his father's legal woes.
Halfway through his college career, Green still had zero starts to his name. The calls were limited to once a week, and they exchanged letters, too: the younger Green begging for answers, the elder Green parrying with advice. Green Sr. could read the discomfort between the lines of each letter. He knew that his son, who had always played the game from a place of joy, was a prisoner of his own mind.
"All these bad things are temporary," his dad wrote. "Good things will happen for you."
But they weren't happening yet, and Green was growing impatient. His grades were slipping, his mind miles away from the classroom. His younger brothers didn't know what to do. Green felt the burden of a household from 500 miles away. Maybe Chapel Hill wasn't home for him, after all.
He called Charles, who had helped attract UNC's attention in the first place, and asked about transferring. Charles knew his former player was serious; if he wasn't, he wouldn't have called. He gauged interest from coaches at Connecticut, Pittsburgh, St. John's — the same schools Green considered out of high school.
But Charles had promised Green's father that he'd look after his son while he fought his charges. Green would have to trust the path before him.
"I wasn't going to let him fall," Charles said.
So Green did whatever he could from Chapel Hill. He picked up a summer job as an intern with Wachovia bank, sending paychecks home to his brothers. He even caddied for Williams, taking whatever his coach was allowed to pay him per NCAA rules. A decade later, Green jokes that it wasn't worth the money.
But he wasn't laughing then. He'd still dance before each game, sparking a tradition that defined his UNC era, and he'd encourage his teammates during them. He was never one to let his emotions slip. They knew what was on his mind; they just didn't know what to say. Williams would occasionally ask Green how he was doing, and the answers were usually the same. Through his silence, he begged for guidance.
"There's not much that you control, if anything at all …" Williams told him. "But you can control what's going on here."
Green took it personal in practice, channeling his frustrations into phenomenal performances for the blue team, UNC's second-string unit. In summer pick-up games with current and former players, he'd always rank near the top in wins. Marc Campbell — Green's roommate and teammate for three years — says Green's versatility and intelligence was built for the next level, even then. It was a wonder he hadn't started a game.
As a junior, Green made it his mission to be the best sixth man in the country. He flooded the stat sheet — fourth in assists; third in points and steals; second in blocks, rebounds and threes…and fourth in minutes. It was a coming-out party for Green, who still wasn't invited to the starting lineup.
"I felt confident in myself. I knew I could play here," Green said. "I wanted to prove a lot of people wrong."
His dad never lost faith, in his son's career or in his own legal battle. After 22 months in prison, he was released. Green was there to meet him. But Green Sr.'s parole kept him from returning the favor, confining him to New York while his son played four states away.
So he watched on TV and called after each game as his son blossomed into a star once again. He watched him earn the trust of Williams and log 22.3 minutes per game, eventually netting his first start. He watched the Tar Heels march to San Antonio with 38 wins in 2008 — including an eight-point win at Duke in which Green had 18 points, a career-high seven blocks and a nasty dunk on Duke's Greg Paulus that is forever enshrined in UNC highlight reels.
Green Sr. watched from afar as his son, aided by a Ginyard foot injury in 2008-09, became the only player on the team to start all 38 games. Green almost missed the final one, thanks to an oblique injury that made it hard to breathe, sleep or laugh. But he played through it, and his father, free from parole, traveled to Detroit to watch his son lift the championship trophy.
"I don't think they win a national championship without him," Spann said.
Green Sr. doesn't remember the first game he saw his son play, post-parole. Green doesn't, either. But they both remember senior night. Before the game, Green treated fans to the final pre-game dance in the Smith Center. During it, he and his teammates handled Duke, as this group always seemed to do. Afterward, father and son were in tears, once unsure if this moment would ever come.
There was no phone call. This time, they were here for each other.
"He's just a special kid," Green Sr. says, chuckling with that loving admiration only a parent knows. "There's no other way to put it."
***
First, it was Hansbrough. Then, it was Lawson. Then Ellington. Then, it was disappointment.
Green expected to go late in the first round or early in the second round of the 2009 NBA Draft. Experts had him falling. He watched his teammates' names flash across the screen before a litany of guys he'd played, and bested, in college. After four years at North Carolina, he'd have to earn respect yet again.
Finally, at pick No. 48, the Cleveland Cavaliers took a chance. Green was on the same team with LeBron James and Sebastian Telfair, whom he competed against in iS8 all those years ago. But the rotation hardly left room for a newcomer. Mo Williams, Anthony Parker, Delonte West, Daniel "Boobie" Gibson, Jamario Moon… It was like his underclassmen days all over again.
In his rookie season, Green saw action in a quarter of his team's games, as the Cavaliers rolled to 61 wins and a No. 1 seed in the East. He made 15 shots in 115 minutes and added three blocks — all ranking 14th on the team — and was briefly assigned to the Erie Bayhawks of the NBA Developmental League. He scored 36 points and hit six threes in a five-point loss, his only game in Erie. The D-League was no place for Danny Green.
But maybe it was. At times, then-general manager Danny Ferry later admitted, Green was the second-best player on the floor in practice behind James. He also showed the same lackadaisical play that drove Williams crazy at UNC. Shaquille O'Neal, the Hall of Fame center, told the rookie to carve out a niche for himself if he wanted to stick in the NBA. It was the same advice Charles had given Green with the Panthers. But there were only so many minutes in Mike Brown's lineup, and he couldn't do anything while frozen on the bench.
In October 2010, a week before the regular season, the Cavaliers cut Green. A month later, after two workouts, he signed with the Spurs.
Six days later, they cut him, too.
So he was back on the couch, watching his teammates on TV as his dad once watched him. Hansbrough finished the year starting with the Indiana Pacers; Lawson did the same with the Denver Nuggets. Ellington was entrenched in the Minnesota Timberwolves' rotation. And Green was in Long Island, staring at his career mortality.
"I might have to find another route," he thought.
His agent insisted his best option was to play overseas. Charles said the same. But Green was determined to stay stateside. He knew he belonged in the NBA — he just didn't know how. He signed with the Reno Bighorns of the developmental league in January 2011 and put on a clinic, averaging 20.1 points and 7.5 rebounds in 16 games. Control what he can control, do what he does best.
He had learned it all before: success, adversity, overcoming the odds. Now, he had to actually believe it for himself.
Everyone has a different story of what happened next: Green says he called Spurs coach Gregg Popovich in March and begged for another chance via voicemail. Williams says Popovich, a close friend of his, called him with a laundry list of things he wanted to see before giving Green another chance. Popovich says both coaches called Green with a dose of reality.
In some fashion, the Spurs signed the second-year guard in March 2011 to an end-of-season contract. It didn't mean much with an NBA lockout pending, which would freeze the season — and all transactions — until it was resolved. So Green, much to his chagrin, went overseas to play for Union Olimpija in Ljubljana, Slovenia, with an opt-out clause should the NBA return.
It did, and so did he, and everything happened quickly from there. Green opened the season as a reserve in San Antonio before Manu Ginobili, then the Spurs' starting shooting guard, broke his hand midway through the year. It was like a flashback to senior year for Green, who seized the starting spot to close the season. The next year, he started 80 games and set an NBA Finals record with 27 three-pointers — against LeBron James' Miami Heat team, no less — coming one win away from a likely Finals MVP award.
"It was a hell of a year for me," Green says.
The next year, the Spurs avenged their Finals loss, with Green's family in attendance. For the first time in his career, he felt secure in the rotation. It was a far cry from a seat on the couch.
Williams says Green's best trait for NBA longevity is his coachability, which has afforded him a more successful career than any of his former teammates. Duncan says his personality is a perfect fit for the Spurs: never too high, never too low, humbled by his adversities. Campbell thinks it's Green's intellect and tenacity on defense — he can guard four positions and switch screens with ease. He learned that from his dad.
Green still worries about keeping his starting spot, but he's not concerned about getting cut — that ended when he signed a guaranteed contract in 2012, and another in 2015. After securing the second one, he posted two pictures on Instagram: one of him playing in Reno and another in Slovenia, with a caption that captured his entire career with one question.
"Who would've thought this guy would ever make it?"
***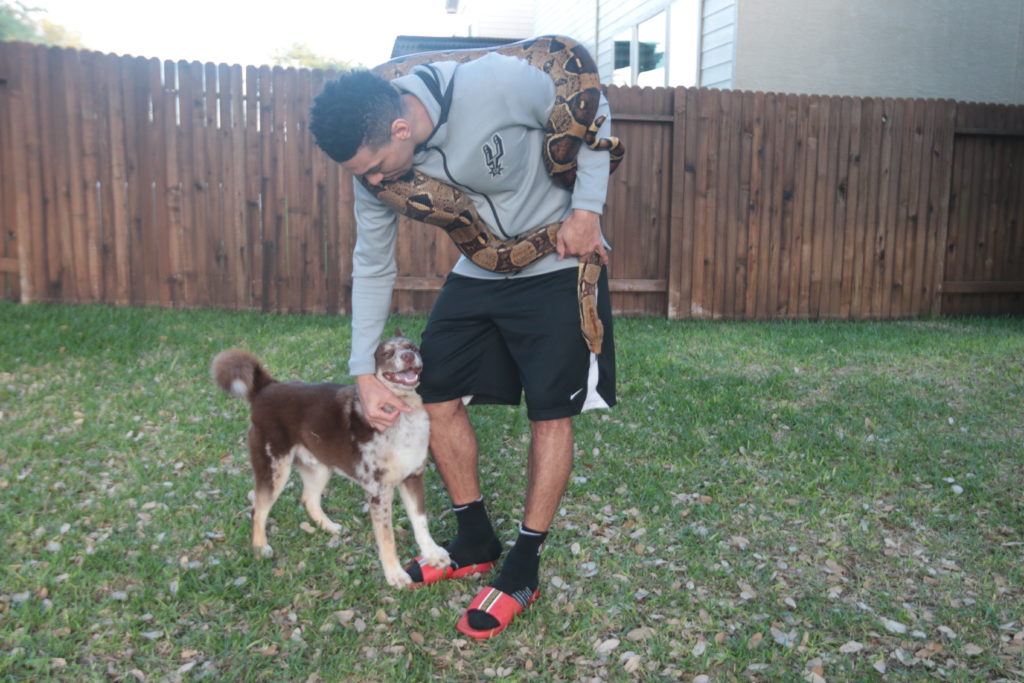 Green stands in the backyard of his San Antonio home, his two dogs running circles around his feet, the Final Four tipping off a few miles away. There's a snake draped around his neck like a scarf, eight or nine feet in length, coiling around his arms as if they were branches. Green couldn't feel more at ease.
He bought Jade, a Columbian red-tailed boa constrictor, almost exactly a decade ago — days after that Final Four loss in San Antonio in 2008. The snake was a foot long then, often curling up in the palm of his hands. It also had a different name: Jake. But Jake died after a few days — unbeknownst to Lawson, Green's old roommate, who came home late one night and started playing with a dead boa. So Green, the consummate creature of habit, bought another and named it Jake. The vet informed him it was a girl. Welcome to the family, Jade.
Jade's been everywhere with Green, a passenger on his winding journey. That first year in Chapel Hill was the hardest — choking on live food, drowning in the bathtub — and it wasn't easy in Cleveland, either, the cold nearly freezing her to death. But Jade persevered, eventually finding her home in San Antonio.
"She's been through it all," Green says. "She made it. She's a soldier."
It's a quirky but fitting pet for Green, with a complexity concealed by her lack of emotion. She cheated death at every stop and weathered each new threat with newfound strength. And here she is, finally at peace, unassuming to some but always ready to strike.
As Green yanks on Jade's neck, deflecting her attempts to lovingly strangle him, you can see glimpses of the tattoos along his wrists: "Made in New York" and "Limited Edition." His left arm is enveloped in tattoos, too: three different UNC logos and an "09" for his graduating class. They're swirling around the words "FAMILY FIRST," which sit directly on the bicep. He has tattoos for each of his siblings — except his recently born sister. He'll take care of that one soon.
If his body is a canvas of his pride, of his path and his influences, his life is the living embodiment.
Campbell says his former teammate's struggles and his maturity through them helped put his own life into perspective. Williams still uses his former player as an example of an athlete who turned hard times into triumph. Charles says Green — the kid who didn't project as a pro — will be remembered not just as one of the best Panthers he's ever coached, but as one of the best young men he's ever known.
"There's always going to be a piece of my heart that belongs to Danny Green," Charles said.
It seems the only person not gushing about Green is himself. He doesn't have the time nor the energy. When each season ends — as did this one on Tuesday, when the Spurs fell to the Golden State Warriors for the second straight playoffs — his real work begins.
On June 23, he'll kick off this year's Danny Green Skills Clinic in San Antonio — spanning five Texas cities across two weeks before ending in Chapel Hill on July 14-15. Between the two dates is the Team Green Basketball Camp, run by Spann and Green Sr., held in Long Island for the 10th straight year. It's a dizzying slate, with Green spearheading drills, lectures and meet-and-greets nearly every day for a month.
He's never one to turn down an autograph or a photo opportunity. He wants to teach this game he loves to the kids who crave it, in the way his father taught him decades ago. His own story is reflected in the campers, a mirror to Green's days as an eager kid in North Babylon.
This is what it's all for. This is how Danny Green wants to be remembered.
"I think he identifies himself with the kids," Spann said. "Danny wants to be that guy that he once looked up to."
Green turns 31 in June, his ninth NBA season officially behind him. He can opt out of his contract this summer, should he desire another home beyond San Antonio. Even the freedom to do so speaks volumes about his security in the league and in himself.
It's the perfect narrative for the athlete who doesn't need one: the humbled man from humble beginnings who doesn't dwell on his own journey. It means more to those who carried him — and to those he'll carry because of it.
"Most people didn't expect me to be where I am," Green said. "And for me to make it, I think it makes a lot of people happy that rooted for me from the beginning."