When Steel String Brewery opened in Carrboro in 2013, it was the 85th brewery in North Carolina.
Now, three years later, the list has almost doubled — N.C. Beer Guys, a website that encourages drinking locally brewed beer, shows there are more than 160 breweries at some stage of operation in the state.
But the state encourages the growth of North Carolina breweries only to a certain point. Brewers can obtain a malt beverage wholesaler permit to sell, deliver and ship at wholesale their own products, but only until the brewery reaches a 25,000 barrel cap of annual production.
That means when a brewery hits 25,000 barrels of annual production, it must either slow down or sign with a third party to distribute all of its products — even if the brewery already owns all the distribution infrastructure it needs.
Even though only a fraction of the breweries in the state are nearing or have surpassed the cap — one barrel of beer is around 248 pint glasses — Sean Lilly Wilson, the chief executive optimist at Fullsteam Brewery in Durham, N.C., feels the law takes away the right of a brewery to make its own business decisions and grow at its own pace.
"I fully support the right of a brewery to determine what their best path is," Lilly Wilson said.
An inefficient process
Fullsteam Brewery is located in downtown Durham, next door to The Pig, a popular barbecue restaurant. Fullsteam's brews are often on tap at The Pig, and it's an easy process — The Pig buys the beer, and it can go directly from Fullsteam to The Pig.
But under state law, the minute Fullsteam hits the 25,000 barrel cap, it won't work that way anymore.
An easy transaction would then have to go from Fullsteam to the third-party wholesaler and then back to The Pig, raising prices for the restaurant and reducing revenue for Fullsteam.
"The reality is, once we sign, we'll have to go through this incredibly inefficient process," Lilly Wilson said. "We're not serving the customer as well. We believe we know really how to service our customers and treat them the way they want to be treated."
When a brewery begins to distribute outside of its taproom, the owners make the decision to invest in distribution infrastructure — like distribution employees or a truck. Lilly Wilson said if a brewer makes that sort of investment, they think it will be best for their business. Requiring a brewery to sign with a distributor at a certain level, even if the brewery is doing fine on its own, is redundant, he said.
The production cap adds an extra step in the process of distributing beer, especially for breweries that distribute to one city.
"Back in 2003, 25,000 barrels seemed like pie in the sky. But now, it's feasible that a North Carolina craft brewery could self-distribute 25,000 barrels in one city," said Margo Knight Metzger, the executive director of the North Carolina Craft Brewers Guild.
Metzger mentions breweries like Old Mecklenburg Brewery in Charlotte — a brewery that recently pulled its beer distribution from the Triad because it was nearing the production cap and does distribute almost 25,000 barrels in Charlotte alone.
"The argument is that it makes business sense for them to self distribute in such a small territory," she said. "If it's all in your backyard, it doesn't make good business sense to go off and hand over the production to another wholesaler who's going to take 30 percent right off the top …"
"Just to put it in perspective, if you were brewing 25,000 barrels and all of a sudden you had to turn over your full allotment to wholesalers, in order to make the same amount of money, you'd have to sell 40,000 barrels immediately."
The logistics of franchise law
It's a double whammy for craft brewers at 25,000 barrels of production — not only must brewers sign with a wholesaler and lose 30 percent of revenue, but franchise law kicks in as well.
"It's not that you just have to work with a wholesaler," Lilly Wilson says. "You have to sign a contract to give up your business forever."
Metzger compares franchise law to a divorce: It's easier to divorce a person in North Carolina than it is to divorce a wholesaler.
"It's for life," she said. "If you're at 25,000 barrels and you sign with a wholesaler in North Carolina, it's for life. No matter what your contract says, no matter how many provisions you put in that contract, meaningless."
If a wholesaler isn't doing a good job with a brewery's products or isn't what the brewery wanted when it signed, it doesn't matter. Metzger emphasizes the same point: You're stuck.
And that's a frightening thought for brewers who are closing in on the 25,000 barrel cap and have to pick a wholesaler quickly under the North Carolina law. If a brewer signs with a wholesaler under that pressure and does so poorly, it could ruin the business.
"If they don't like their wholesaler and their wholesaler doesn't do a good job with their brand, they don't have a way out."
At least, not an affordable, attainable way out.
Homegrown success stories
Most breweries in North Carolina aren't close to that much production, according to Will Isley, a co-owner and the brew czar at Steel String Brewery. Steel String's co-owners are aiming to brew 1,000 barrels this year, but that's only after a recent expansion. Most breweries in the state are about that size, Isley said — making the 25,000 barrel cap a non-issue.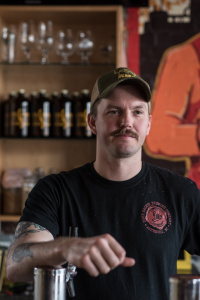 "It's not really a reality for anyone," notes Andrew Scharfenberg, Steel String's logistics czar.
Lilly Wilson confirms that most breweries in the state will never get close to the self-distribution cap. Fullsteam is entering a major expansion mode, he said, but the goal is still only 10,000 barrels a year by 2017.
Even though it isn't a reality for most breweries now, Metzger emphasizes that the breweries that are hitting the cap now are only a few years old.
"They grow fast," she said. "Some of them grow 100 percent year after year, or more. I mean, craft brewing is growing by leaps and bounds."
North Carolina is a hub for craft brewery, Metzger said. Breweries like Sierra Nevada and New Belgium set up expansions here in the state, and Metzger said the owners of those breweries feel they couldn't have reached that sort of success unless they were able to self-distribute until they were ready to sign.
"We'd like to see one of our homegrown North Carolina breweries succeed like that," she said. "It's going to be really hard for them to do it if they're forced to go with a wholesaler before they're ready."
Craft Freedom
Two Charlotte breweries that have come very close to the 25,000 barrel cap are banding together with others across the state to protest the N.C. General Assembly's decision to restrict craft breweries.
Craft Freedom, a grassroots organization initiated by NoDa Brewing and Old Mecklenburg Brewery, stands by the idea that the "American Dream" should apply to breweries in North Carolina and that state law shouldn't stop the breweries from growing. The movement kicked off in early March — Red Oak and the Charlotte breweries held informational events to educate others about the cause.
"We want control of our destiny and not be forced to give up our most valuable asset – our brand," said Suzie Ford, co-owner/president of NoDa Brewing Company, in a press release. "If we exceed the brewing cap and are forced to go with a distributor, we will have to lay off 11 employees. Local jobs are at stake."
But again, only a few breweries in the state — specifically NoDa, Old Mecklenburg and Red Oak in Greensboro, all leaders of the Craft Freedom movement — are anywhere close to bumping up against the cap.
"There's 150 breweries in North Carolina," Isley said. "What we've said to the guild before is, it's just so far away. It's not anywhere close to reality for us, so it makes it really tough for us to see so many lobbying dollars get spent on something."
The principle of the thing
It's the principle of the thing to many in the beer industry — forcing a brewery to sign with a wholesaler before the business needs to doesn't make sense.
Some breweries, like Foothills Brewery in Winston Salem, signed with a third-party wholesaler long before the company neared 25,000 barrels of annual production — and that's common among breweries in the state, Metzger notes. Foothills is now producing more than 30,000 barrels every year and growing.
Jamie Bartholomaus, the president and owner of Foothills, said he made the decision when it was right for the business — not because there was a state law requiring him to sign.
Isley explains that when a brewery hits that 25,000 cap, wholesalers know that.
When a brewery is small and has time to look around, it can bargain and make a deal that works best for it. But when a brewery is producing right at or around 25,000 barrels, its leverage is gone, Isley said. The brewers will have to reduce production or sign — and if they choose to sign, the wholesaler has the leverage.
"The legislation puts the leverage into the distributors' hands once you start getting up there," he said.
"I think that's more what upsets (brewers) — they don't have any leverage in the discussion," Isley said. "If they go and say, 'we want to add 5,000 more barrels so we need you (the wholesaler) to help distribute,' there's no reason for a distributor to give them a really large signing bonus because they aren't trying to attract them."
Distributors aren't evil, Bartholomaus emphasizes. In fact, he thinks they've made a big, positive impact on North Carolina's craft beer boom.
"There's also a very strong case to be made to use distributors," Bartholomaus said. "The benefits that they can provide breweries are very strong as well. I'm very much in support of the system in general. It's very important, it's gotten our industry where it's gotten today."
But to Metzger, who has worked both in breweries and in distributing, the current production cap is slowing growth in an industry that keeps growing.
"It's arbitrary. It's anti-conservative. It goes against free market principles."