Story by Matt Hodgin
The setting sun lit up the sky, warm air of a young October fall filling their lungs. And…rap music? Yes, the song of choice, "Bed Rock" by Young Money, echoes around this Lynchburg, Virginia, hotel parking lot. The group of girls scattered across the pavement singing along? That's the UNC women's soccer team, stretching before the next day's big game versus the seventh-ranked Virginia Cavaliers.
Abby Elinsky, a junior midfielder and forward for the Tar Heels, took a step back. How sweet it was to see her teammates smiling and hugging. Their excitement fueled by the UNC football team's last-second win over Florida State, witnessed in the hotel lobby minutes before that evening's jog.
Abby took a minute just to appreciate it all. They were in the middle of nowhere: Stretching. Singing. Smiling.
This was good.
The next day, Oct. 2, Abby woke up at 8 a.m. to five missed calls from Sabrina Dominguez, her brother's girlfriend. One shortly after 2 a.m., two at 4 a.m. and two more at 7 a.m.
"Is everything okay?" Abby texted her.
"Call your mom."
Abby had a bad feeling as the phone rang, but her mom was calm when she answered.
"Nick was in a car accident late last night," her mom said. "We don't know much."
Now, instead of going through a morning of game preparation, Abby made her way to the rooms of Tom Sander, director of team operations, and Head Coach Anson Dorrance. She knew little except her mom was catching a flight from their home in Cleveland to be with Nick in an Orlando Hospital.
"I get this knock on the door and it's Abby," Dorrance said. "And of course tears are streaming down her cheeks because her brother's been in a car wreck and she doesn't know what to do."
Nick would be fine, right? It was just a little accident. Was he injured? How bad?
How are you supposed to react?
Grandparents are on the way to the hospital. They'll know more. Just pray for the best.
Abby didn't know whether she should play against Virginia, but Sander had already begun looking for flights. She had to get to the hospital, Abby decided. She had to see her brother.
Abby boarded the bus with the team as they set off toward Virginia's Klöckner Stadium. The team was dropped off, but Abby stayed on the bus to the airport. She called her dad, Greg Elinsky, who was in California for the wedding of a family friend, Zander Shultz, an Olympic gold-medal wrestler he grew up training with. Nick had been invited to the wedding, but had ultimately decided to stay in Florida for the weekend.  
Greg had talked to the doctors. It was serious. His son, the one who spent so much time gliding from wave to wave on his surfboard, had hydroplaned into a tree with a couple of friends at two in the morning.
They were going to pick up a pizza.
Soul mates
From her dad's view, Nick and Abby were soul mates growing up. Prior to middle school, they were both homeschooled by their mom. It was just the two of them, every day, all day, playing and hanging out. People often thought they were twins because even though Nick was three years older, they looked the same age.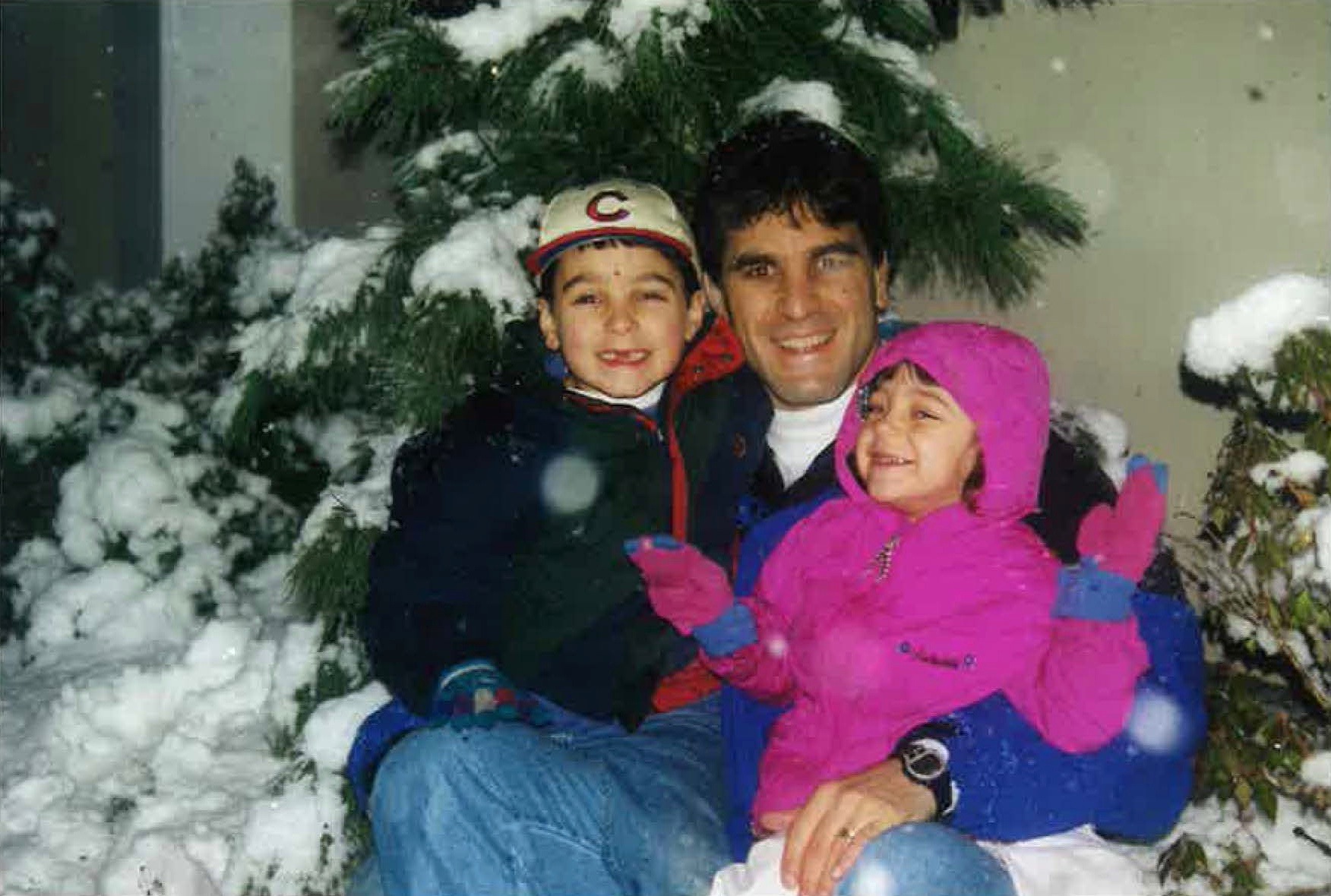 And boy, were they both talented. Abby won a national championship with her club soccer team the summer before her senior year of high school, and then helped her high school team to its first state championship in the school's 97-year history. She would begin her college career at the University of Illinois before transferring to UNC for her sophomore year, and she said Nick also had the talent to play on the collegiate level for hockey. But anyone who knows Nick knows there was no way he was going to do that.
To his core, Nick was a free spirit and a lover of nature. He grew up raising ducks in his bathroom. He fished every fish in the pond out his back door and would feed loaves of bread to them after they had been caught. As he grew older, the ocean became his retreat. Nick and his dad would go on surfing trips to the New Jersey shore, and after two days of being in the ocean at 5 a.m., Greg's body would give out. But Nick, no way, he would be in the water by 5 a.m. five days in a row. While attending the University of Central Florida, Nick lived near the beach, was outside every day surfing, riding motorcycles or just taking nature in.
"He would go where there is adventure, or where there was a just a good time," Abby said. "And he was a good time, and he would make a good time out of nothing."
However, between the family moving to Cleveland, Nick going off to Central Florida and Abby playing Division I soccer, being soul mates was hard.  It wasn't for a lack of wanting to be together, but with her rigorous schedule the time just never seemed right.
"Sometimes I was so focused on soccer and school that he didn't understand it as much," Abby said.
They got into a fight earlier in the semester over just that, but on Sept.11, out of nowhere, Nick texted her.
"Hey, I don't know if you remember that fight convo we had a long time ago," he said.
"But I just wanted to apologize and tell you that you're doing awesome and that education is so important, and the fact that you're at the spot that you're at and the school you're at. It's just huge."
"I'm sorry too," she responded. "And obviously we're just at different spots in life, which is okay but I love you dude. You're my favorite person on the planet. I wish we got to chill more, but we will soon enough."
On Sept. 23, nine days before the accident, they got their chance. Nick flew to Chapel Hill early that Friday morning, and even an early class would not stop them from hanging out.
"Hey, just come with," she said.
That's right. Nick went to Abby's class – her small English class. And of course…there's a pop quiz. They sit down and Nick notices this intent stare on Abby's face as she tries to answer the question.
"You have no idea what you're doing," he whispered. She hadn't done the reading for this Friday morning class, because who would with their big brother coming into town?
"He's looking at me and he's just laughing," she said. "Cracking up laughing."
But then it was Abby's turn to laugh. Nick was fighting off a post-flight slumber as she kicked his chair each time his head began to bob. Abby couldn't help the laughter because…again, of course…the one time she would bring Nick to class, he would fall asleep.
But hey, he's here. He's seeing what her life is like, visiting her class and riding on the back of her motorized scooter through campus. He's meeting her friends on the men's soccer team and then with her at the Friday night game cheering the guys on. She knows he is proud of her and happy for her. He will always be her best friend. They will always be soul mates.
Unwelcome news
When the bus pulled up to the airport minutes after 11 a.m., Abby stumbled off and fell to her knees at the curbside.
"She broke down," Tom Sander said. "And started wailing and saying all these things that people say when they found out someone died."
Nick had been unresponsive from the time of the accident around 2 a.m. until the family received the news.
Nick Elinsky died at 11:02 a.m. Oct. 2, 2016. He was 23.
The vehicle's two other passengers would eventually leave the hospital alive, but Nick had suffered a blow to his head that created major swelling in his brain. His lungs had collapsed in the hospital, and doctors weren't able to stabilize him in time to do surgery and relieve the pressure.
Abby sat on the curbside, crying on the phone – her dad was crying on the other end.
"We just both couldn't believe it," she said. "I don't know. To hear that kind of news, it doesn't seem real. It's like you don't believe them."
Two hours remained until boarding. Her dad was about to board his flight. Her mom was already in the air. At the ticket counter, Abby couldn't get words out. Sander had to purchase the flight for her.
"I was thinking about the whole time, my dad on a plane, and he had just lost his son," she said. "And then my mom is in the air, and she has no idea, that she is going to land in Orlando and figure it out."
When she finally got to the hospital, Abby's mom tried to talk her out of going into the room to see her brother, but there was no way she'd be kept from seeing her best friend. Her dad broke down in the room when he saw Nick. Abby held him as they cried. As they just hung out with him. One last time.
Not wanting to look, she remembers knowing he was in the room, but in many ways it also felt like he wasn't. She finally saw blood out of the corner of her eye and mustered up the courage to look over; the left side of his face was swollen and bloody. Her mom was positioned on Nick's right side, the side that was not impacted, the side that resembled her son.
"I just took that time to try and process it a bit," Abby said. "It was obviously the hardest thing I've ever done. To see my brother laying there and to first touch him, his shoulders were just ice cold. I just stood in there and held his hand over the blanket, and I remember leaving that room was so hard to do."
Even then, as Abby stood there about to exit, it didn't seem real.
Team and Family
Back in Charlottesville, the women's soccer team played to a 1-1 draw.
The girls were doing their normal post-game field sprints when they received the news about Nick. Several burst into tears. Senior leaders Darcy McFarlane and Hanna Gardner gathered them together, spoke a few words about Nick and then sophomore Samantha Leshnak led the team in a prayer for Abby and her family.
"It was as if each of our brothers died," sophomore defender Julia Ashley said.
The team would go on to play two more games without Abby. She remained in Cleveland with her family, spending many mornings paddle boarding out on the lake behind her house. It was her place to be alone. It was how she began to process the tragedy.
Zander Shultz, the family friend who was supposed to be on his honeymoon in Hawaii, organized the services for Nick. The funeral would be nine days after the accident and three days before the women's soccer team was set to take on Notre Dame in South Bend, Indiana.
When the girls found out the date of the funeral, they immediately began looking up flights to Ohio or how long the drive would be. They knew if they went, it would take a toll on practice and their schoolwork, but they wanted to make the sacrifice for their teammate and her family.
To their surprise, Sander, who Dorrance praises as an "administrative genius," devised a plan where the team could go to Cleveland for the funeral, hold practice thanks to the coaches at Cleveland State University and then travel the remaining distance to South Bend – all in the three days leading up to their match with the eventual regular-season ACC champions. Dorrance knew the 800 miles on a bus and the emotions of the trip would drain their legs, but they went anyway.
"What mattered to me was Abby Elinsky and how she was doing," Dorrance said. "And that's always been our priority in the program. We've had great teams and great runs. I would never sacrifice a human being to win a game. And so for us this was a no-brainer."
Getting on the bus
Following the funeral, the Elinskys had a decision to make.
Should Abby take a medical hardship for the semester? Take time to heal and rejoin the team in the spring? Or head back to school and play the game she loves to get through this tragedy?
Years ago, Dorrance was in his second year of marriage when he and his wife, M'Liss, got a call in the middle of the night that her mother, father and sister had died in a house fire. Even to this day, if he or his wife receive a call in the middle of the night, they wake up startled with a fear that something has happened to one of their kids.
It's something that will never change for Dorrance and M'Liss. But one of the best things he told the Elinskys that his wife did right after her mother, father and sister were buried, was pour herself into her work. She was on a regular schedule, and even though she was numb from the pain, the routine kept her feet moving, it kept her blood circulating and she was able to realize that the sun still came up in the morning. She never stopped loving what she lost, but she was able to sort out that life was still full of richness and worth living.
He told the Elinskys that while he would obviously support any decision they made, he wanted Abby back for the team, and he wanted Abby back for Abby.
"Trust me," he said. "This team will wrap their arms around her."
On Friday, the team was getting set to take on Notre Dame, and who shows up but Abby and her dad. Abby was dressed in her uniform and says she was mentally prepared to play that day, but she hadn't taken the field in nearly two weeks. She would watch from the bench as her teammates lost 1-0, but nothing could change her mind. She knew what she was going to do the second she watched her teammates board the bus for South Bend back in Cleveland.
The decision to come back or not came down to how she was going to recover through this. She was going to get on the bus with the team, go the 12-hour-long drive and come back to Chapel Hill.
It's a place she calls home for a reason.
Coincidence is no coincidence
Leaving her family in Cleveland and rejoining the one in Chapel Hill has not been as easy as the decision to hop on the bus. Getting back into classes and onto the field after two weeks away would be difficult for anyone, let alone someone dealing with the loss of her brother.
She has many of the regrets for lost time you would expect anyone who has lost a loved one might have: plans of travels after graduation with Nick, to start families, to do all of the things they dreamed about. Knowing that she got some of that time with Nick in Chapel Hill before the accident helps.
"I don't know if it's a sign or a blessing or whatever it was," Abby said. "But I feel like I would be a lot more lost during this time if I didn't get to have that sort of time with him."
More than anything however, it is this Tar Heel team holding her up. It's the bond. It's the love. It's the pregame locker room, all of her teammates scribbling "N.E." on their wrist tape.
"To have those sort of reminders when I look around the room that everybody truly cares and that they're playing for the same sort of purpose I am," Abby said. "We're truly playing for each other at the end of the day."
Anyone who watched the 2016 Tar Heels early in the season did not expect them to finish how they did. Following the loss to Notre Dame the team was 8-3-3, one of the worst starts in team history, and the season was set to be a blemish on the historical program only familiar with 38 years of greatness.
When Abby rejoined the team, Dorrance knew he had a fighter, a fighter that he needed back on the field. He inserted her at forward, the position she played her entire childhood but had yet to play in college, giving her a chance to immediately impact the game.
Suddenly, this team looked different. This team looked good. This team looked scary good.
"It's like lighting a match under a gas tank," said junior midfielder Megan Buckingham.
Dorrance knew it too.
"All of a sudden we are looking at this going, holy crap…maybe this should have been our line-up all along," he said.
Without Abby in the line-up, the Tar Heels went 2-1-1 in games that included the draw against Virginia and the loss to Notre Dame.
With Abby as a starter at forward, the Heels went 9-1-1, a finish to the season that resulted in a trip to the College Cup semifinals and included a 3-0 win over Virginia and a 2-1 win over Notre Dame in the ACC Tournament. The only blemish prior to the College Cup for this team was a 4-3 penalty-kick loss in the ACC Championship to a Florida State team they beat in the regular-season finale. Coincidence or not, having Abby on the field helped UNC become one of the best teams in the country.
Before the Tar Heels took on consensus number-one West Virginia in the College Cup, a team they would battle to the bitter end in a 1-0 defeat, Abby looked around the room. And she knew by the writing on her teammates wrists that they were fighting for her, but she also knew what she was fighting for when she looked down at her own.
Amidst the eye, heart and "U" symbols to remember her dad, "2020" to symbolize her goal of playing in the next Olympics, a cross for her faith and "N. Champs" for the ultimate prize, she had two additions. One, a wave with sunbeams stretching outwards to remember how Nick lived, "by the tide rather than the time." The other, a phrase for all her love and all her fight.
"Love you bro."