Story by Catherine O'Neill and John Aceti
Video by Amanda Lalezarian
Photos by Viviane Feldman
After 38 years of marriage, Fleming Pfann still remembers the thing that brought her and her husband together.
"I came in after a meeting one night and tasted some lasagna in the refrigerator that was so good," Fleming said. "And I said (to my roommates) the next morning, 'Where did you get this fabulous vegetarian lasagna?' And they said 'Oh Brit made it.' And I said, jokingly, "Well, we'll have to come invite Brit to live here.'"
Brit didn't move in. In fact, after Fleming set them up, Brit married one of Fleming's friends. Brit and Fleming remained close friends, and years later, after that marriage ended, the two decided they had to be together.
Eight years after getting married, in 1987, they moved from Florida to a 330-acre plot in Siler City, North Carolina.
"My father left me the property," Fleming said. "And I literally fell in love with it because of the big old oak trees and the periwinkle everywhere. I saw it in the spring and again in the fall and I thought 'Oh, I love this place.'"
Fleming's father bought the land with the intention of flipping it, so most of the acreage was undeveloped. Neither Fleming nor Brit had experience with farming; Fleming had been an artist and a professor at the University of North Carolina School of the Arts and Brit was a contract engineer and computer scientist.
Within a few years, the artist and the engineer would be goat farmers, cheesemakers, innkeepers and event planners at Celebrity Dairy goat farm.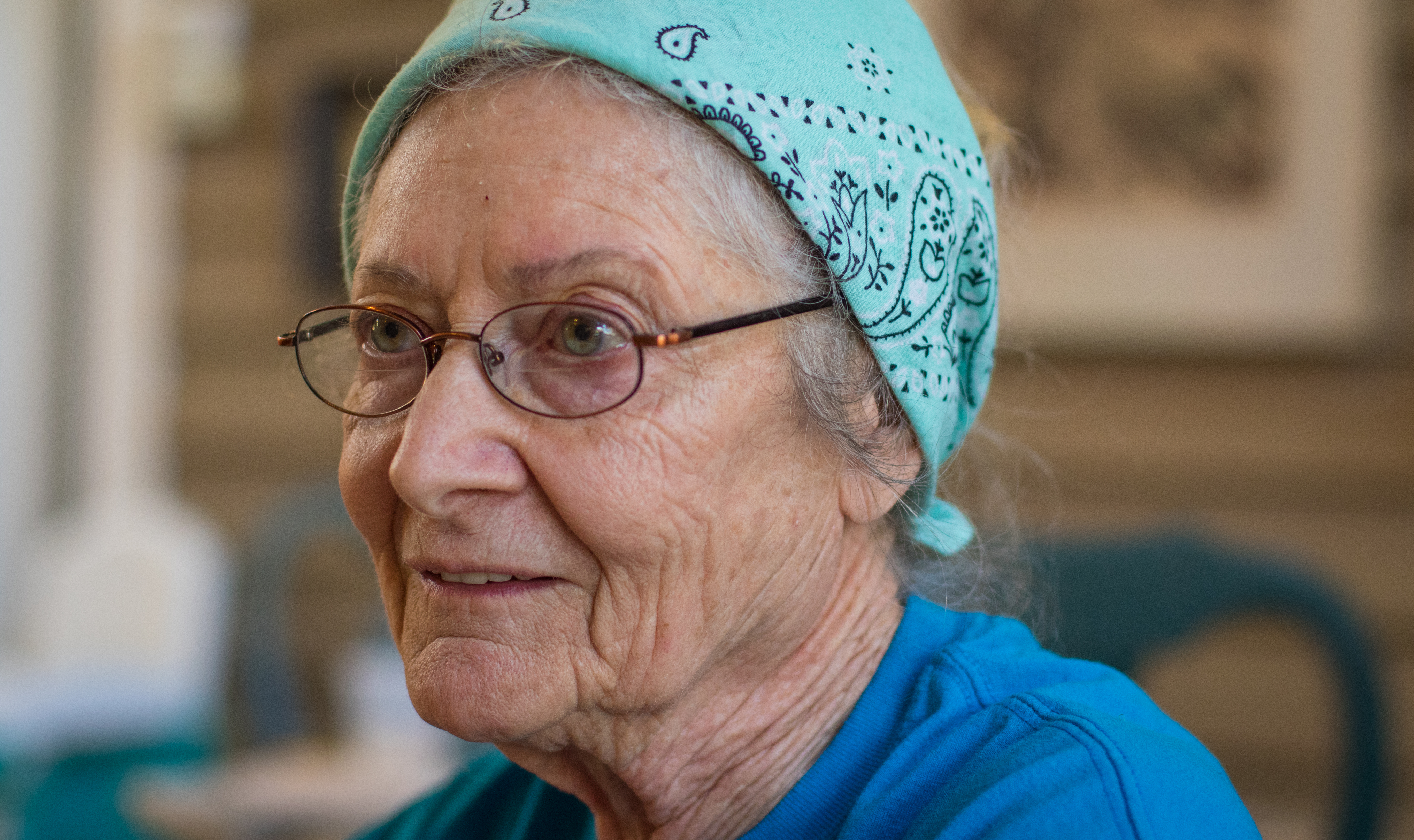 …
Celebrity Dairy was named for its stars—the goats.
"Fleming's daughter Barbara was an actress," Brit said. "And she had a flair for the dramatic."
Whenever Barbara dropped by the farm, on her way to gigs across the country, she would go out to the barn to visit the goats.
"And she'd say, 'Come on, it's gotta have a name. That goat's got great legs, let's call it Betty Grable,'" Brit said. "The one with the big udder was Jayne Mansfield. And so whenever Barbara left, all the goats had names, and they were all celebrities."
Eventually, the name of the farm itself came to reflect Barbara's flair for the dramatic as well.
"Someone along the way asked, 'Well, what's the name of your farm?'" Brit said. "And my answer always was, it doesn't have a name, come on guys. But the goats didn't have names and they became celebrities. So when the farm didn't have a name, it became Celebrity Dairy."
Celebrity Dairy had little of what makes it such a successful business today when the Pfanns moved in.
"None of these buildings were here," Fleming said. "There was a two-seater outhouse with a mercury windshield bay window. And also no indoor plumbing, a hand-dug well that was only 40 feet deep."
The couple initially became interested in owning goats because Fleming can't drink cow's milk. By 1990, they were licensed as a goat farm. And right away, they invited members of the community to visit the playful animals, sending out cards to neighbors asking them to stop by during kidding season.
Decades later, Fleming and Brit still use food to bring people together. Both with the gourmet dairy products they make from the goats' milk and by hosting community dinners, the couple engages the community in the story of their farm.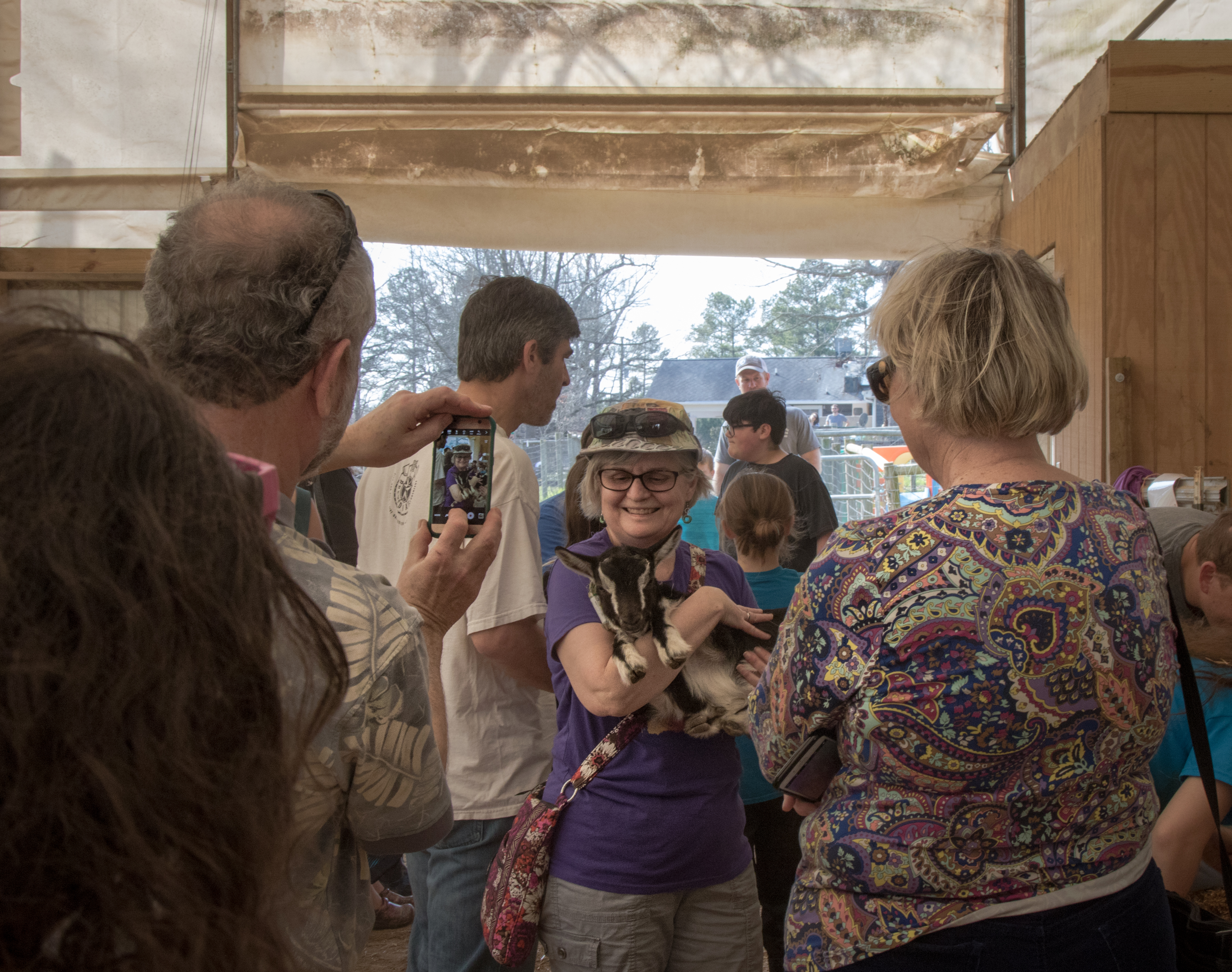 …
Although their focus is the farming itself, the couple sees the events as a way to both entertain people and teach them about farming.
Brian Long, the public affairs director at the North Carolina Department of Agriculture, said many small farms are remaining significant by directly marketing their products–like the goat cheese, gelato and fudge from Celebrity Dairy–to consumers.
By letting community members interact with the baby goats, hosting farm-to-table dinners and talking with residents about their farm when they sell at local farmers' markets, Brit and Fleming feel they are giving people exposure to a world they might not otherwise experience.
"Because people don't know about farms anymore," Fleming said. "I mean, very few of us. We are maybe two generations away from having lived on a farm and having had a close connection to a farm. And increasingly, people want to know where their food comes from."
Long said this personal connection to food will likely drive food-buying decisions in the future as well.
"Consumers are more interested in food and knowing more about it, such as who produced it and where and how it was raised," Long said. "Farmers are adapting to that consumer interest. In the future, millennials will be making the bulk of food-buying decisions, so this interest is likely to continue."
Celebrity Dairy products are sold to local restaurants, stores and markets and, along with revenue from the inn, make the farm a successful and sustainable business venture.
Bob Vance has been one of Brit's regulars at the Carrboro Farmers' Market each Saturday morning for the past eight or nine years.
He said part of what brings him back each weekend is the personal relationships he gets to build with the vendors.
"This whole farmers' market here is like a small town," Vance said. "You get to know everybody, and you come and chat, even if you don't buy something."
He also said he feels that not only are Celebrity Dairy's products "high quality, local and handmade," but the farm serves a crucial role in both the agricultural and personal community.
"In many ways, I feel very blessed to be able to afford and to have this here," he said. "If we don't support it, we're not going to have it. And (these farms) are developing ways of sustainable farming that are highly useful. And it's a lot of fun to come each weekend."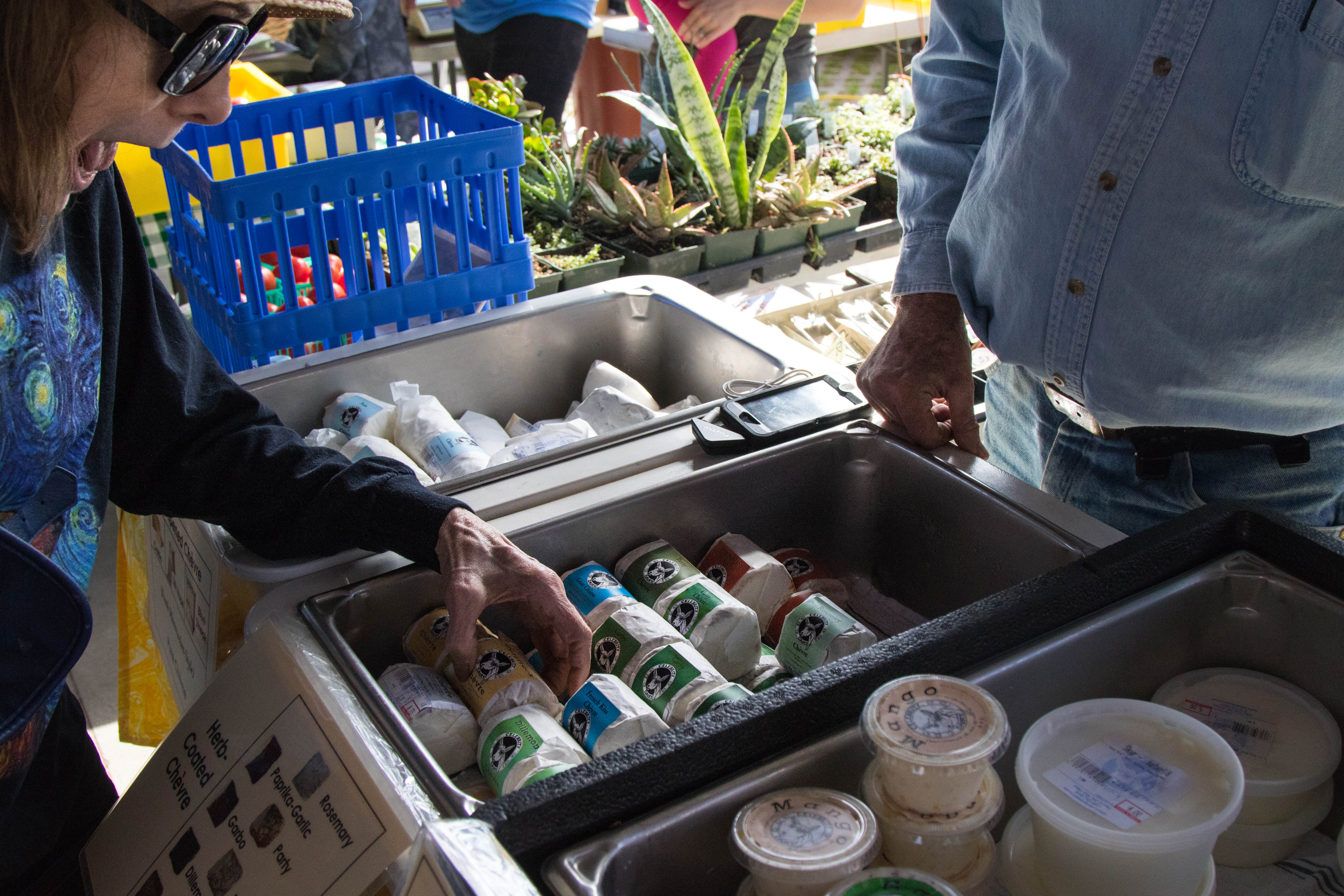 …
Rose Hoban and Steve Tell, a local couple who have been coming to the farm's community dinners for six or seven years, said Brit and Fleming make the experience worth it.
The three- to four-course dinners host about 30 people on the third Sunday of each month. The ingredients are purchased locally and prepared by Gwen Higgins, a local chef who has been working with Brit and Fleming for going on 30 years.
She said the dinners provide community members with a unique opportunity to feel more connected with the food they eat.
"Even though I love food and love sitting around and thinking about food, when I actually make food for myself, I take 10 or 15 minutes to eat it," Higgins said. "Whereas when you come here, it turns into more of an event…(Y)ou take the time to enjoy your appetizers, the people you're with, the beautiful flowers or weather…And also, it's special to look in the eyes of the goats that you're eating the cheese from."
Higgins believes that the community dinners give participants a small window into what life on the farm is like.
"Coming here for a meal is sort of like getting to rent a farm," she said. "You don't have to do the work all 365 days a year…You just come out, enjoy yourself, swing on the big swing, sit in the sun. It's just a nice way to step back into a different lifestyle."
…
Fleming and Brit love the work they do, but they are unsure about the future of the farm they love so much.
"(The hardest part) is the long days and the physicality of it," Fleming said. "In fact, that's why I had to stop doing the cheesemaking. Because I can't lift 50 pounds anymore, and I'm 78 years old. And I think my husband's beginning to feel it too. We're having to get help that are young and strong."
Fleming said it's unlikely that her children will take over the farm and that it's challenging to find young people committed to farming.
"(T)hat's kind of hard to do because people want to do mindless work," Fleming said. "And there's nothing mindless about being on a farm. You have to be focused, you have to be centered. You have to be paying attention. Or it's a very dangerous job."
Long agreed that agricultural work can be a hard sell in a tech-driven environment.
"Agriculture is an easily overlooked industry," Long said. "It lacks the glamour and appeal that the tech-driven world of today necessitates, but it remains one of the handful of industries that we literally couldn't live without."
In addition, the uncertain nature of crop yields and business from year to year means farmers face a unique kind of economic uncertainty.
According to Long, North Carolina remains primarily a small-farms state.
"Over 90 percent of North Carolina farms are still family-owned, and almost 70 percent are fewer than 100 acres in size," he said. "Eighty-three percent of North Carolina farms have less than $100,000 in annual sales."
However, Long also said North Carolina has lost a great deal of farmland to development in recent years.
"The state has lost a lot of working lands to development over the past two decades," he said. "In fact, from 1970 to 2010, the state lost 6.6 million acres of farmland, according to USDA data."
Much of the 330-acre property of Celebrity Dairy goat farm is undeveloped, and the Pfanns have invited farmers to move to the land and continue farming in some form or another. They have built a 14-acre irrigation pond in an attempt to make the farm sustainable in the future. Currently, one family, the Anderson family, has moved to the land and started growing microgreens.
"Who knows what it will be like in 50 years, and that's why we've provided water," Fleming said. "We've tried to designate at least 100 acres that will not be sold but will be farmed and leased to people that want to do something. And we may ultimately have to sell some of the acreage, but hopefully not more than that."
Hoban said she hopes that someone in the community will continue the work that the Pfanns have begun.
"Somebody needs to come–people who are just as nice–and they need to buy the place so it continues," Hoban said. "Because they've talked about retiring for a long time. And it's so nice to have this local thing here."