Story by Trevor Lenzmeier
Video by Hannah Lee
Photos by Nicole Vandiford
Graphic by Alex Gorry
BUXTON, North Carolina – In North Carolina's Outer Banks, the cracked pavement of Highway 12 winds through towns lined with brightly-painted, wood-paneled oceanfront houses on stilts and ice cream shops.
Truly, almost everything in the Outer Banks is oceanfront.
As the highway approaches Buxton, on Cape Hatteras, the road covers most of the strip of island. To the East, there are man-made dunes tall enough to block the Atlantic from view. Looking inland, a slew of wind-surfers glide over choppy waves before launching off the water's crest into the air. It's the perfect place for the sport – the wind makes a walk on the beach seem like a sandstorm.
For years, Buxton has been a vacation destination for sleepy weekends on beautiful beaches and sports enthusiasts alike – particularly surfers, paragliders, hunters and fishers.
But for the last several centuries, North Carolina's barrier islands have been shrinking.
The stretch of beach surrounding Highway 12 between Avon and Buxton has receded about 2,500 feet in the last 150 years and is now approximately a quarter of its original width. As sea levels have risen, the land has simultaneously been aggressively developed for realty and tourism. The combination of erosion and human interference has kept Cape Hatteras and the rest of the Outer Banks from regenerating naturally.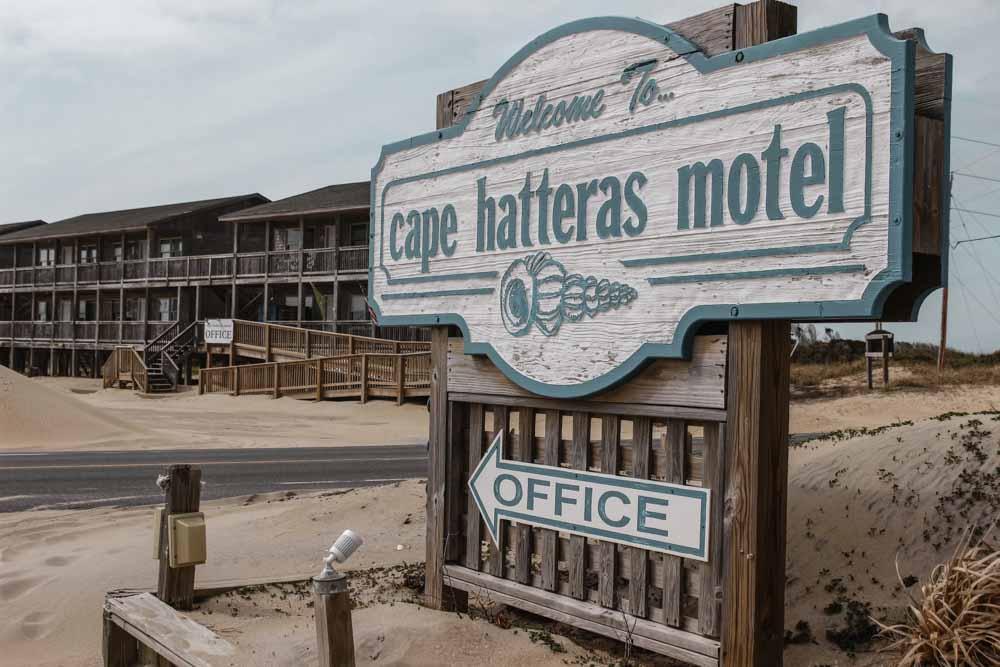 Dave Dawson, owner of the Cape Hatteras Motel, has watched this change more closely than most. Once an Outer Banks vacationer and now in his 47th season as a motel owner, he's built rooms, watched them get swept away, and rebuilt them again. The original oceanfront property at the Cape Hatteras Motel extended hundreds of feet into what is now the Atlantic Ocean.
But still, Dawson is certain he'd never leave Buxton.
His father purchased the motel, then just a cottage court, in 1971. The development was about 20 years old and was closed at the time. The original structures were built on concrete foundations and were all ocean-facing – those, plus every one of the buildings Dawson's father constructed, have been washed away. Today, the motel has 37 rooms between seven buildings, plus an office on the inland side of Highway 12.
The Dawson family re-opened the Cape Hatteras Motel around Easter 1972. Dawson was a maintenance man. In 1973, after a storm knocked out 10 buildings, he took over.
In the Outer Banks, hurricanes and the floods they bring are as commonplace as seagulls. Upkeep for the motel makes the operation a labor of love, Dawson said. But even as the sea draws closer to the motel, he added that leaving isn't an option.
"The bank expects to get paid back," Dawson said. "There were times that I probably could have sold it and should have, and didn't. I enjoy the hospitality business, but like most entrepreneurs, I never had an exit strategy."
He said he's used to the washouts of Highway 12 and the lulls in tourism that follow. He's ready, when necessary, to evacuate guests during a hurricane. He said that ocean overwash – when the ocean washes over a flat beach and replenishes banks on both sides – isn't happening on the island, and so both sides of Hatteras are eroding.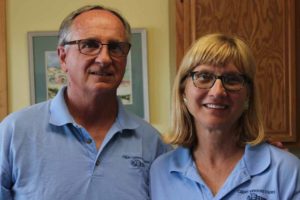 Dawson said letting nature takes its course isn't a realistic option for the tourist-driven businesses of Cape Hatteras, and that residents and the state have to work with Mother Nature to preserve the remaining patches of land.
"The island's been here for tens of thousands of years, so I don't think in the next 100 years, someone's going to take a magic eraser and wipe it out," Dawson said. "I don't debate that there is some sea-level rise, but over time I think that'll work itself out too. You just have to wait it out."
***
Political pundits and marine scientists have grappled over the Outer Banks for decades. A controversial report on sea-level rise from 2011 predicted between 39 feet and 55 feet of sea level rise by 2100, which prompted the state legislature to restrict the outlook of that report to just 30 years.

Some experts have suggested regularly repairing and reinforcing Highway 12. Others have suggested moving businesses and residents back to the mainland and allowing nature to take its course.
But even as the sand shrinks beneath their feet, Hatteras residents have found common ground: they aren't going anywhere..
These families have lived in the Outer Banks for decades or even centuries, and intend to leave only when the island itself washes away. Most expect the island to change, but not disappear.
Many of the 4,000 or so islanders on Cape Hatteras doubt the prospects of a three-foot rise in the tides by 2100, but there's little debate about the sea-level rise that's happened there over the past several decades. In 1999, the Cape Hatteras lighthouse was moved 2,900 feet inland as the island and shoreline migrated toward the base of the structure, and the implementation of groins and sand bags has failed to slow the ocean's encroachment on both sides of the island since.
***
Dr. Orrin Pilkey is a coastal geologist and former Duke professor who served on the committee that moved the Cape Hatteras Lighthouse in 1999 and has advocated for moving businesses and occupants to the mainland.
He said people like Dawson eventually won't have a choice about leaving the island. It's not a popular opinion on Cape Hatteras.
"I engendered the hatred of a lot of people down there," he said.
In Pilkey's view, efforts to preserve access to the Outer Banks will prove futile. Having lost his family's house to Hurricane Camille in 1969, Pilkey understands why locals think he's simply a scientist with an agenda. But he said the Banks are the highest-risk location in the state because of the natural dangers and the difficulty of transportation to and from the island.
"I'm pounding the table on sea level rise because I think it's going to be a huge issue worldwide," he said. "And my fear is there's so much opposition to it, that when it finally becomes obvious, everybody's going to be wanting to evacuate. If we don't do something about it now, maybe the value of your house is going to drop, but we shouldn't be waiting for the rise to become obvious."
He said the current residents are now facing a small but accelerating sea level rise. Depending on the melting of ice sheets in the Arctic, he said three feet of sea level rise by 2100 is realistic.
"They should be looking very seriously at the potential for their lives to change considerably," he said. "Is it worth it?"
He said the erosion of marshes and smaller islands is likely preparation for the Outer Banks to migrate, as barrier islands naturally do. But instead of allowing the beach to naturally regenerate, developers have asserted their will on the island, creating dunes and groins and sandbags, bulldozing beaches and redistributing sand.
Pilkey holds that the Outer Banks won't be able to artificially nourish itself forever.
He said moving houses back away from the shoreline and up onto stilts could work, but that the endeavor of sea-proofing these homes in the Outer Banks isn't an economically feasible strategy. But those who hope to wait out the changes on the island will eventually find themselves underwater.
"Even if you do elevate your house so the storms wash under, you're not going to be able to go to church or get groceries," Pilkey said. "Ambulances won't be able to come when Pea Island is flooded. You will move."
He also said the reluctance to accept that prediction was an attitude he's seen for decades from coastal residents.
"I'm sorry, but you're so wrong," he said of those hoping to adapt to the rising tides on the shores of the Outer Banks.
***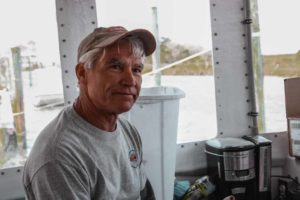 Jeff Oden is a commercial fisher whose family has been on Hatteras Island since the early 19th century, when legend holds that his great-great-great grandfather washed up in a whiskey barrel.
His family has owned a pair of motels on the beach on Cape Hatteras that have been both been obliterated by storms. His grandfather used to own the land from the Coast Guard station to Hatteras Inlet, about two miles of shoreline that has since been cut in half.
"Now is probably one of the more concerning times I've spent here," Oden said. "We gotta deal with the hurricanes always and we're all apprehensive when we see one coming, but most of us choose to ride them out barring a category five. But here lately, it's pretty alarming seeing what's going on."
He said he's a believer in climate change but not global warming, and that he's seen the most dramatic changes on the island in the receding inlets. He said the island isn't what it once was because of erosion exacerbated by development, but holds out hope the island will start gaining back land.
"It's been said we're our own worst enemies around here for putting dunes up that allow access to and from. But by the same token, they deny the island the ability to replenish itself, Oden said. "We are what we are. We created it and we're going to have to deal with it."
Ultimately, although those who call Cape Hatteras home have disagreed on how to handle a physically changing hometown, these men and women are bound by a shared struggle for their tender island.
Oden recalled dire times after Hurricane Isabel in 2003. The town was divided over a zoning ordinance before the storm hit, but the hurricane kept the residents pinned down on the island without water. Sharing communal showers in trailers for a couple months put the squabble in perspective, Oden said.
He said he might go to a bit higher ground, but didn't necessarily see a life for himself outside of the Outer Banks.
"I believe I'll get to live my life out here, but we have to just wait and see," Oden said.
He said he has no idea where the island will end up, but that everyone living on Cape Hatteras is literally just along for the ride.The only constant in the Outer Banks is that the islands will change.
For locals who have called the barrier islands home for generations, leaving is hardly a thought.
"I made the statement, I'm kind of like an old Merle Haggard song," Oden said. "I'm doing life without parole here, that's how I feel about it."