Broadcast by Jaclyn Lee; Written by DeLaney McGuire & Alexa Phillips; Video and photo by Aly Moser
Chapel Hill native John "Tweet" Pieroce has been riding mopeds for more than 30 years. Pieroce lost his license after three DUI convictions in the 1970s, and turned to mopeds as a form of legal transportation.
"I had started getting DUIs in the car back in the 70s or whatever, and ever since I just started riding mopeds, you know. Just kept riding them," he said.
Pieroce is no stranger to the dangers of moped riding. Fourteen years ago, a car crashed into Pieroce's moped, dragging him underneath. His arm was torn completely off.
Despite having endured several surgeries and 15 weeks of painful physical therapy, Pieroce considers himself lucky.
"I was really scared and thought I was going to die or whatever… I'm glad to be living again, because I could have been dead or whatever, but I made it through it," Pieroce said.
While Pieroce survived, many others have not. North Carolina has consistently reported the highest rates of moped fatalities, leading the nation with 175 deaths from 2011-2015. These numbers are significantly higher than New York, Texas or California, states with much larger populations.
According to recent studies: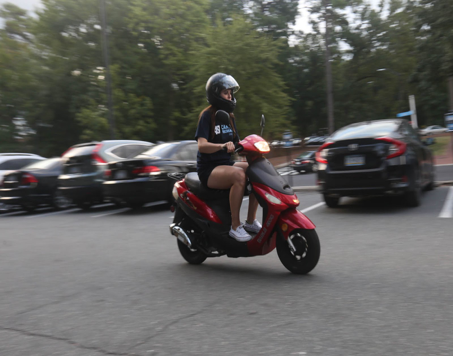 The number of moped deaths in North Carolina has increased with time, jumping from 17 in 2011 to 31 in 2014.
Forty-nine people died in moped crashes in 2013, the highest number ever recorded in the state.
Of 833 moped drivers in accidents in 2013, only 114 had active driver's licenses.
In 2011, 39 percent of moped drivers in accidents were drunk.
In one study, 45 percent of moped drivers had a previous DUI and 72 percent were repeat offenders.
These statistics are driving efforts to toughen moped regulations in North Carolina, one of only six states that don't require moped drivers to be licensed.
The Carolinas Medical Center stated in a report, "…current laws do not address this [DUI] issue, and moped licensure laws are too lenient for [DUI] offenders."
For many North Carolinians who have lost their licenses due to DUIs, the next step is to hop on a moped. Other than biking or public transportation, mopeds are the only legal transportation option available to them. This phenomenon has given mopeds the nickname "Liquor Cycles" or "Drunk Cycles," and has some legislators pushing for change.
DMV Commissioner Kelly Thomas addressed the state's lack of moped regulation in a 2015 presentation to N.C. legislators. He recommended the state require all moped operators to have a driver's license or a state-issued ID card with a moped endorsement.
While most states restrict people who have lost their licenses due to drunken driving from operating a moped, North Carolina had virtually no restrictions for moped drivers until last year. Thomas's presentation helped push through two laws that tightened moped regulations.
Now, mopeds must be registered with valid license plates and drivers are required to purchase liability insurance. However, no driver's license is required and repeat DUI offenders can still drive mopeds.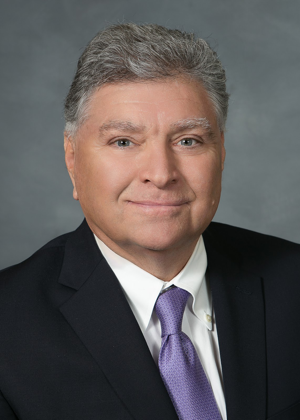 Rep. Phil Shepard, sponsor of the recent moped regulation laws, said retrieving data about mopeds was extremely difficult before the registration requirements were enforced, because there was no way to track accidents involving mopeds.
Now that mopeds riders require documentation, Rep. Shepard said it's possible to look more closely at moped safety in the state. "So probably, in the next year, we could go out and do another study with the DMV and that will give us more detailed information," Rep. Shepard said.
Rep. Verla Insko, who supported the new moped laws, said, "I oppose mandating regulations that are not supported by data that prove the need… We will return to this issue in 2017 with a better understanding of the issues and the best way to address problems."
However, not everyone is a proponent of stricter moped laws.
Robert Foss, director of the UNC Highway Safety Research Center, said he doesn't believe requiring a license to drive a moped will make the roads any safer.
Foss said if an individual needs to get around but can't legally drive a car or a moped, he or she is likely to choose the car: a large, high-speed vehicle that poses a much bigger threat to others on the road than a moped does.
"There's a belief that a license does more than it does, but most people who lose their license go ahead and drive anyways, about 70 percent," Foss said. "If you require moped operators to have a license, you take away the easiest [legal] form of transportation from them."
Foss also suggested the high rates of moped crashes are a problem only for those who are driving. Foss said, "We don't need to control this. This is a low speed vehicle that's not really a threat to anyone else except the people on that vehicle."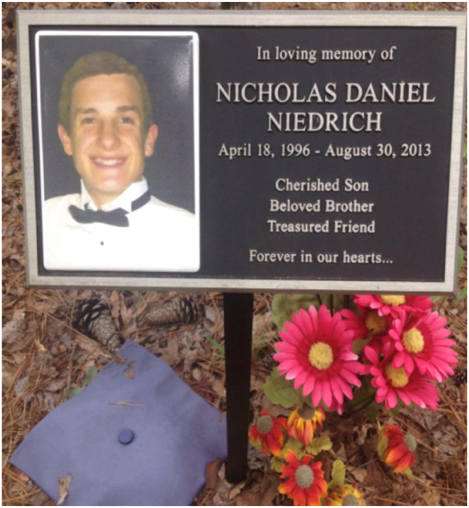 Hope Niedrich, whose brother Nicholas died at just 17 years old after a moped crash, is all too familiar with the far-reaching effects these accidents can have.
"On August 30th, 2013, my life and my entire family changed forever. We lost a son, a brother, and my closest friend to a moped accident… Perhaps had there been stricter regulations my brother would still be here," Niedrich stated.
While Niedrich said she would advocate for stricter moped regulations, she's more concerned that other drivers seem to overlook mopeds on the road.
"Most importantly, I think it's necessary to raise awareness with drivers of automobiles. Those that walk, ride bikes, motorcycles and mopeds are people too…we all must respect one another and share the road," Niedrich said.
Pieroce has witnessed first hand a sense of carelessness and even aggression from automobile drivers who come across mopeds.
"Sometimes people throw stuff at you and run you off the road. It's real dangerous at night," Pieroce said. "You've just got to be extra careful of them and watch your surroundings."
Moped drivers face the danger of a driver in an automobile not seeing them and being severely injured or killed in even a minor accident. When you add alcohol into the mix, the threat increases, for both moped drivers and others on the road.
"I don't know that you're any safer if you're drunk on a moped than you are in a vehicle," Rep. Shepard said.
When it comes to moped regulations, many disagree about what's best. But most recognize a need for change when it comes to safety on the road.
Niedrich said, "To anyone else that has lost someone in a moped accident, your pain is felt by many, seek help if you need it and know that you are not alone in your experience."