Story and captions by: Camila Molina
Video by: Laura Brache
Photos by: Ben Aijian
CALI, Colombia— One day in September 1991, Rodolfo Peña Cárdenas and his family drove away from Florencia, Caquetá, when a group of eight armed men stopped his car and told him to get out.
"Who is Rodolfo," the men asked.
Peña Cardenas identified himself and said that he didn't carry any weapons.
"They wanted to retain me—take me," Peña Cárdenas said later.
At this time, Peña Cárdenas was the director of the Cattle Breeding Fund of Caquetá. He often traveled to Florencia, a southwest city in Colombia, to interview the farmers who raised the company's herds. This was not a business trip, however, he was visiting his ranch in Florencia with his brother, his 4-year-old son and two veterinary students.
That afternoon, four of the armed men took control of the car and drove Peña Cárdenas and his brother north, toward the Andes mountains. His son and the students were left behind on the road. The armed men drove as far as the car could go in the mountains when they told his brother to return with the car, not to contact the police, to go pick up the others left behind and to buy a special radio.
They would contact him with instructions.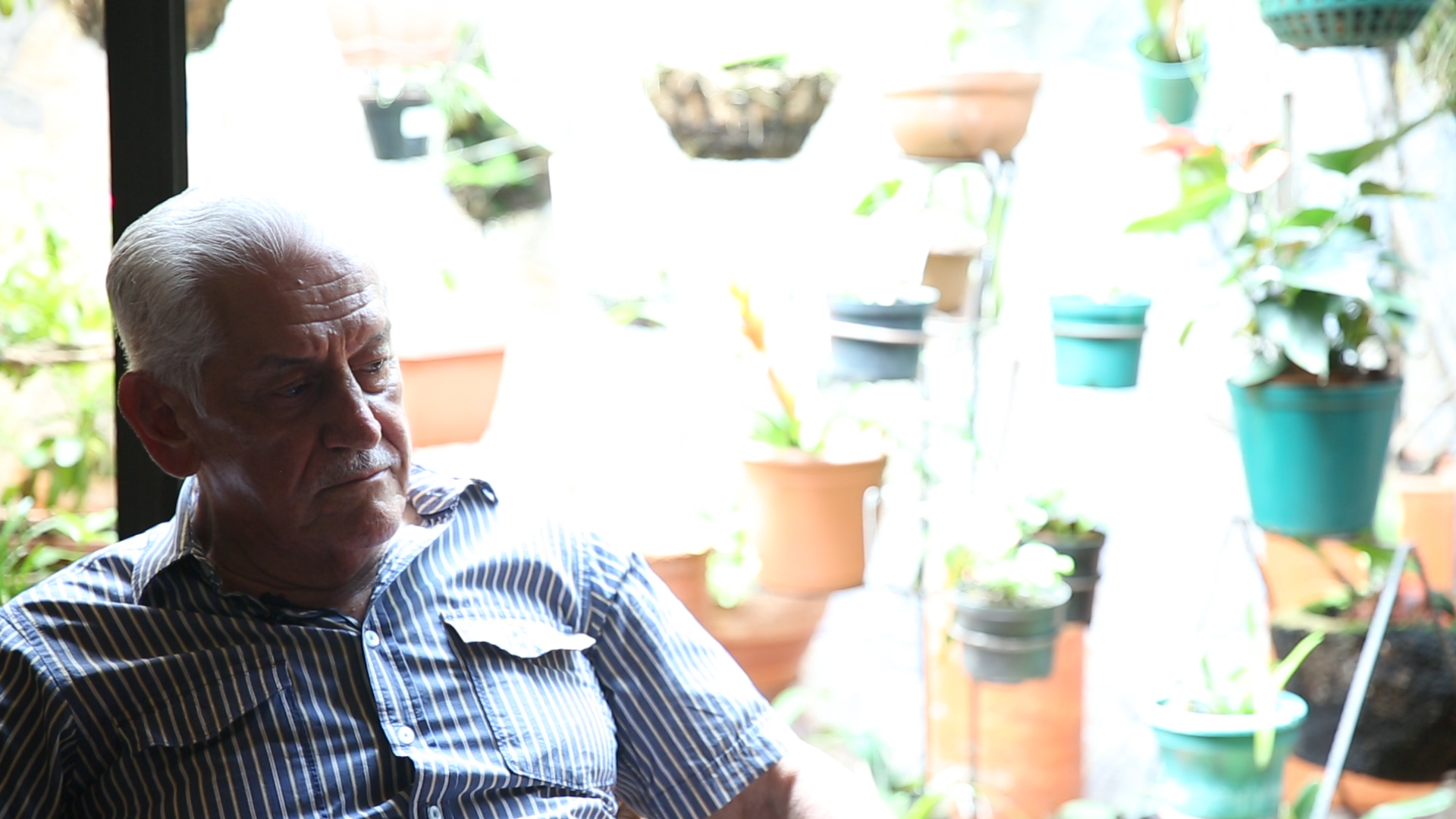 That's when the odyssey began for Peña Cárdenas, now 78. To walk and walk and walk. Up and down on the Eastern Range of the Andes, across rivers. And then finally when they found a ranch, they stole a horse to carry him the rest of the way. At 6 a.m. the next day they reached the camp where he remained for a month, deep in the Andes mountains.
Peña Cárdenas was kidnapped by a dissident group of the Revolutionary Armed Forces of Colombia and was among the 27,000 reported kidnappings related to the latter half of the 52-year armed conflict.
A controversial peace accord
More than 220,000 Colombians, civilians and armed rebels, have died in the crosshairs of the FARC, other guerrilla groups, the paramilitaries and the government, according to Colombia's National Center of Historical Memory.
In December 2016, the Congress of the Republic of Colombia ratified a 420-page peace accord with the FARC to end the conflict with the oldest guerrilla army in the world. The peace accord passed in Congress only a few months after Colombian voters rejected it in October. The referendum vote was 50.2 percent for "No" and 49.8 percent "Yes."
The peace accord is a political, agricultural, societal and drug reform. President Juan Manuel Santos led the "Yes" vote who saw this as an opportunity to have peace and former President Alvaro Uríbe led the "No" vote who opposed the ability for the rebels to participate in government.
The voter turnout was low, less than 38 percent of the eligible population casted a vote. After the referendum, about 50 changes were made to the peace deal before Congress ratified it.
There are six main components to the accord:
End the conflict.

The FARC has promised to uphold the ceasefire and turn in their weapons to the government. The United Nations will register and collect these weapons. FARC members that lay down their weapons are guaranteed to live in "transitory normalization zones," camps in rural areas to integrate back into society.

Political participation.

Former FARC leaders will have seats in Congress for political representation.

Rural reform.

The peace accord promises to eradicate rural poverty by giving farmers more land and autonomy to participate in agricultural reform in their regions.

Find a solution to the production of illicit drugs.

The eradication of drugs will start with farmers, where those who choose to participate will receive government subsidies to substitute illegal cultivations of coca for other crops.

Reconciliation with victims.
Implementation, verification and authentication.

The United Nations will help implement, verify and assure both parties are upholding the peace process.
Multiple presidents have attempted to draft a peace deal with the FARC, but it was Santos who was able to get FARC to agree to a deal, and after almost four years of negotiation in Havana, Cuba, they reached a consensus. He won the 2016 Nobel Peace Prize for his efforts.
Although the accord garnered support from the United Nations, the United States and other countries, not all Colombians support the FARC having representation in government.
When the FARC arose as a leftist group in 1958, they were not terrorists and they did not facilitate drug trade. They were poor farmers who were being killed by the conservative party. Many have forgotten, don't know or choose to forget that the FARC was born from an agrarian problem.
The opposition of the peace accord has focused on benefits the FARC will receive. But there's another, more vulnerable group that will receive benefits as well—farmers. Poor farmers have resorted to growing coca as their primary income. Coca farming in Colombia is at an all-time high and the country is the top producer of cocaine. Since 2013, there's been almost a 100 percent increase in coca cultivation, according to a report from the U.S. Department of State.
Luis Barón, political science professor and expert in the conflict at ICESI University, in Cali, Valle del Cauca, says many Colombians oppose the peace accord because they are "maximalists."
"A lot of people would like to see these guerrillas defeated, humiliated, with black and white striped jumpsuits, like how it happened with the Peruvian guerrillas," Barón said. "We have to lower those expectations where these guerrillas are humiliated, punished, rotting in prison to compensate the pain they feel, to feel at peace with the experiences they've lived that have hurt them for a long time.
"This peace deal is a new social contract with a strong recognition of the local, regional, mainly the rural world and the farmer. I would say this accord shows that they were not negotiating privileged conditions for themselves. They tried to negotiate in representation of others."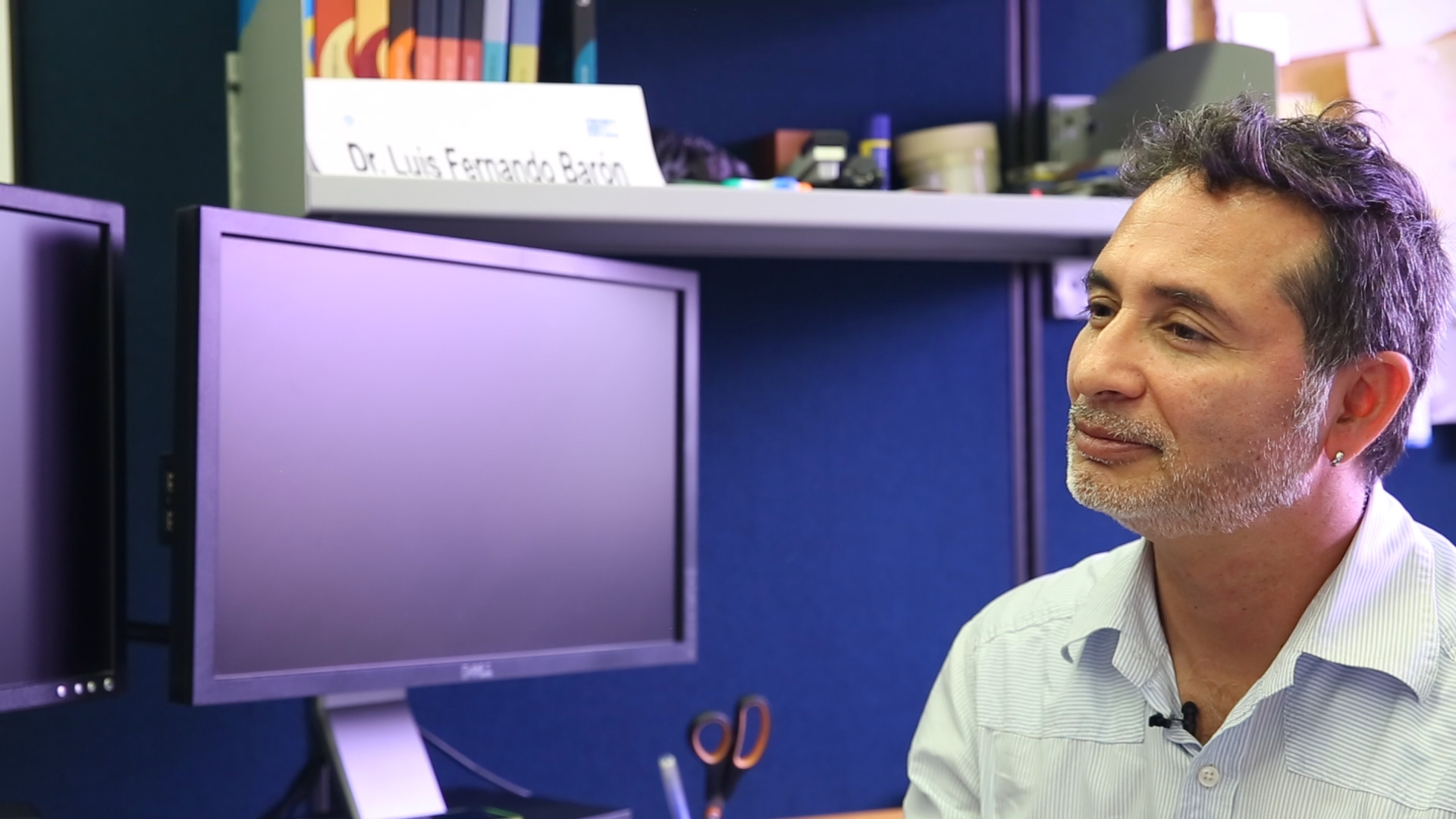 By the beginning of April, about 7,000 weapons were registered by the United Nations.
Since December, some of the rebels began relocating to the temporary camps after Congress approved the revised accord. But the process has been slow. The construction of these tent cities has been
delayed
, along with promises of food, clothing and money.
Some want justice, some reconciliation
For Peña Cárdenas, who was kidnapped for ransom, forgiving the FARC is not something he is willing to do—even though his captors were a dissident sect of the FARC, he sees them as one in the same. Regardless of who took him, he felt the humiliation and fear. After his family paid the 30 million Colombian pesos — about $30,000 — a leader of the FARC contacted him to inform him the organization had never ordered him captured.
"The public opinion of the FARC has never been good because you can't have a good opinion about people who dedicate their lives to kidnapping others, who look for money that way, and assassinate people—a lot of people have died," Peña Cárdenas said.
While some Colombians would prefer to see the FARC in prison than in the legislature, Sara Otero Mosquera, whose husband was murdered by an armed group less than a year ago, says she hopes the FARC and other armed groups will recognize their transgressions toward Colombians.
In August 2015, her husband, Fredi Alexander Sanchez, was killed on their farm in Morales, Bolívar. A few weeks prior, they had received a loan to grow yucca. Otero Mosquera and two of her three children were away, but Sanchez had asked off from his day job as a construction worker to start planting yucca.
Martin, their 10-year-old son, had stayed behind with Sanchez that day. Although he wasn't harmed, he was traumatized by the experience and has been receiving therapy since then.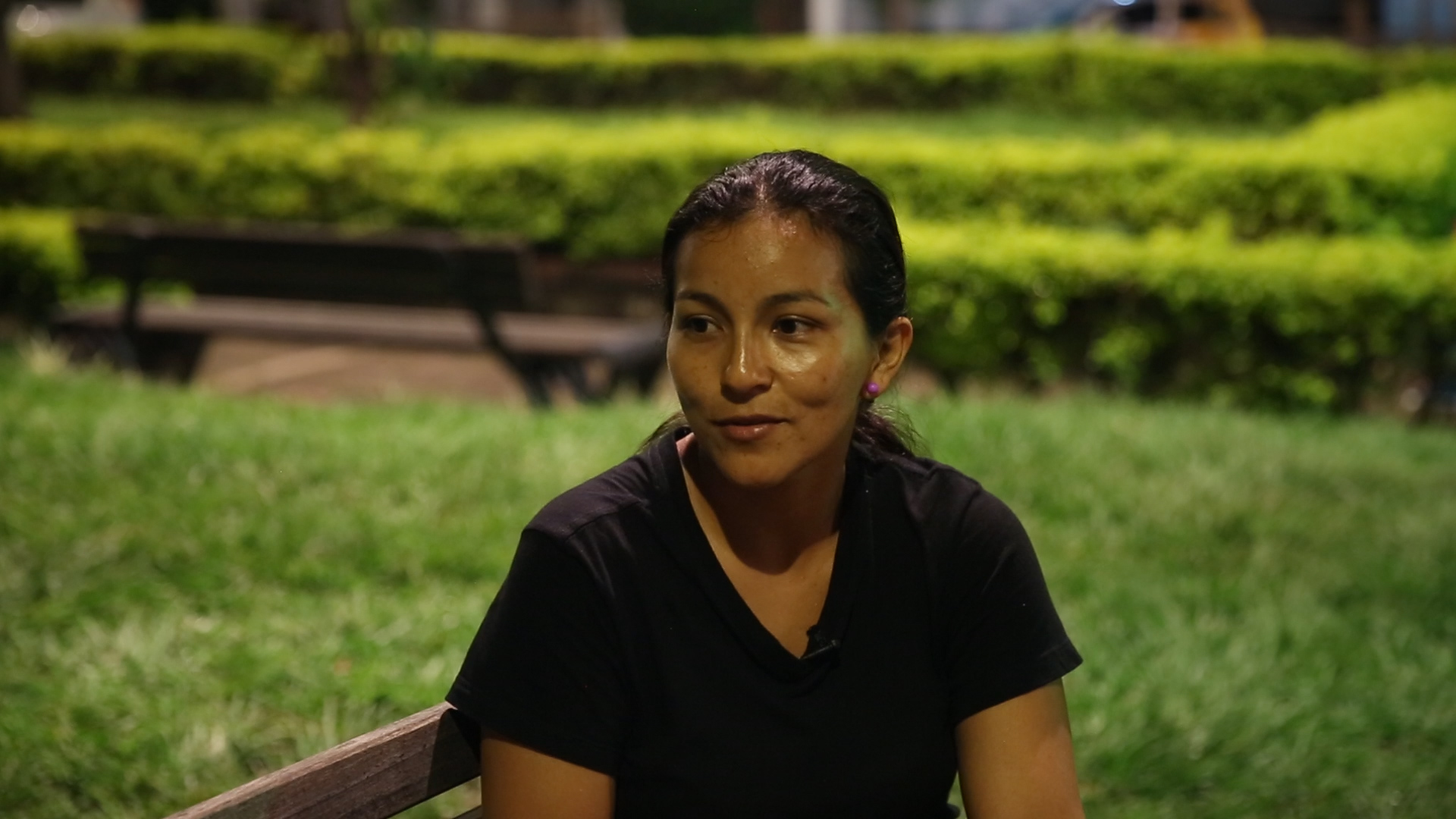 "I don't feel any resentment toward them because I've learned so much before God," Otero Mosquera said. "It would be wonderful if not only this group (laid down their weapons), but all of the armed groups. Each person knows within in their heart, the good and the bad that they do."
The farmer
Lucrecia Biscunda's family has always lived in the Department of Cauca. The 43-year-old and all of her family members are farmers.
"We have survived with coca," Biscunda said. "That's what we live off of here in El Cauca, coca."
But she and her family have decided to stop growing coca and substitute it for coffee instead.
In the peace accord, farmers, especially to female farmers who are heads of their households, the government is offering subsidized land, credits to buy land and, in some instances, free land to farmers who don't have land or don't have enough of it. It's a formal provision of land to farmers who work on lands, but don't have documented ownership rights. These incentives have a larger purpose to eradicate poverty in rural areas.
In order to receive these benefits, farmers must voluntarily stop farming "cultivations for illicit use," like coca, and commit to never replant those crops. In El Cauca, on the way up to the camp site of Monterredondo, Miranda, different shades of green blanket the slopes of the mountain. The light green leaves are coca, planted between coffee, yucca and plantains as a form of crop rotation and camouflage.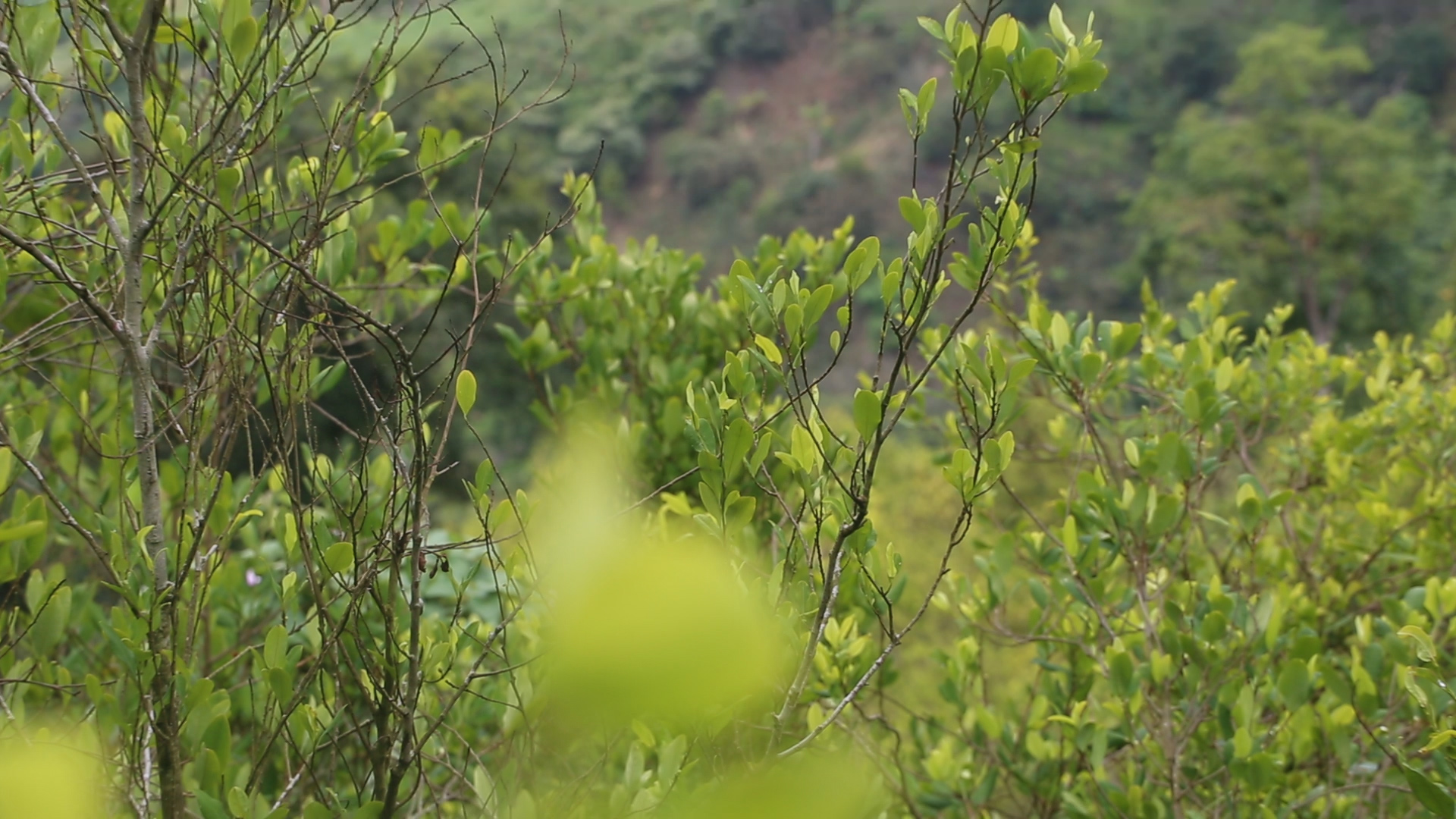 "We started this process in November, but we haven't seen any changes so far," she said. "Most of us have changed our crops, but there are still some that are growing (coca) because we still haven't received anything."
Biscunda and her family have lived firsthand the effects of war. Fighting between the FARC and the Colombian military displaced her family several times. The last time was four years ago.
"Thank God we've felt some peace now. Before the ceasefire we couldn't be sitting here like this. In any moment the guerrillas would be here and the military would soon follow, we would have to [be] on our guard for when they would start shooting."
The future
Walter Mendoza, FARC Commander of the Occidental Bloc and leader of the Elvira camp, who was present during the peace talks in Havana, says his organization is committed to peace.
"The government is asking us to turn in our weapons," Mendoza said. "What about the rest of what we agreed on? The supplies they're sending us are incomplete. Here in our camp the government had committed to send us supplies for 350 units, now they've reduced it to 290."
May 31 is the deadline to turn in all the weapons, as stipulated by the accord. Most of the camps are almost finished, however, there have been many delays. In Monterredondo, the construction of the camps stopped when an aqueduct burst.
"So if the government doesn't do its part, well, we aren't obligated to do our part," he said. "This is a bilateral agreement and it's been signed."